Authors: Marina Fletcher, Noelle Monek, Jennifer Ferrara and Agnieszka Wangert
Facilities Managers Seek Furniture Solutions to Help Reopen Office Spaces
As workplaces begin to reopen, many facilities managers are searching for ways to make their office spaces more comfortable for employees. The designers at ODP Business Solutions™ Workspace Interiors receive many questions from clients developing their companies' guidelines for reopening office spaces. They seek solutions that will help them create multitiered, phased plans, which address current and future needs while flexibly accommodating evolving conditions.
A common goal heard by the Workspace Interiors team is the desire to be able to reconfigure floor plans, retrofit existing furniture, reduce the number of high-touch surfaces and incorporate technology.
As facilities managers work on reopening office spaces, here are some of the most prevalent office social distancing solutions they want information about to help inform their decisions: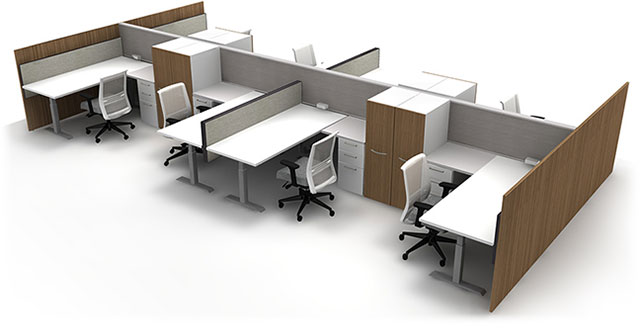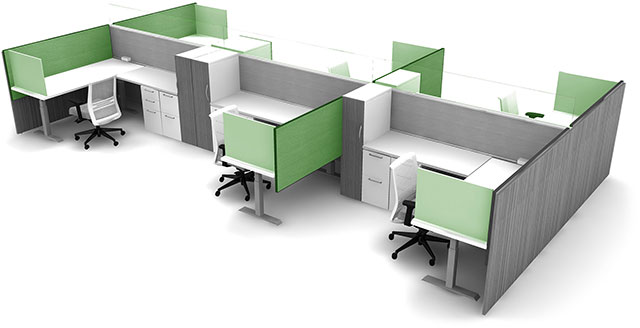 Floor plan reconfigurations
Facilities managers seek help to rework office space floor plans to accommodate social distancing guidelines. Many companies are considering implementing rolling shifts to achieve lower occupancy. The Workspace Interiors design team can assist with floor plan strategies to accommodate phased workforce schedules.
Workspace Interiors designers look at ways to reimagine floor plan layouts for common areas such as breakrooms and waiting rooms, conference and training rooms. They may recommend adding wider separations between workspaces, if possible, by relocating furniture, reducing occupancy or repurposing how the space is used. They can also determine how one-way traffic flow can be encouraged in hallways and pass-throughs.
Facilities managers are also looking for insight about where to place sanitation stations that hold cleaning supplies for employee use and central spots to collect garbage instead of individual trash cans at each workstation. They also want information about panels, screens and furniture covered in materials that can be cleaned with bleach solutions.
Input is shared with office planning committees to incorporate the ideas into their plans for reopening office spaces.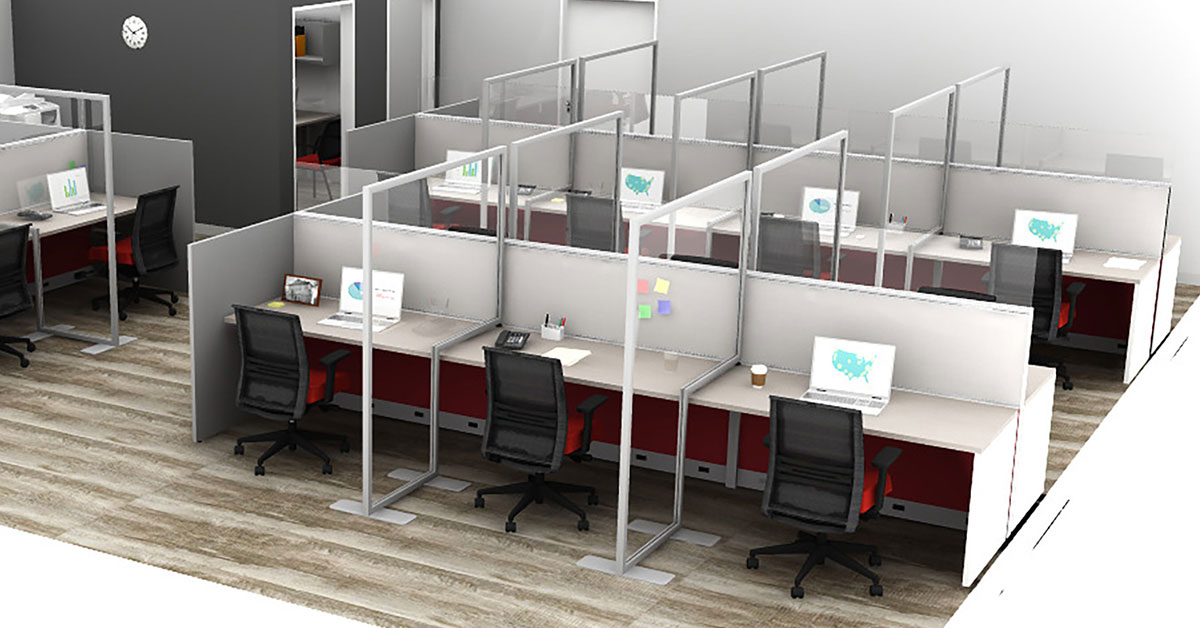 Office furniture solutions
Clients with open floor plans may have less flexibility to keep workspaces physically separated. Instead, they are exploring ways to retrofit their existing furniture solutions by adding physical barriers such as desk shields, mobile panels and gallery panels.
Workspace Interiors designers generally point to 50-inch physical barriers for seated workstations and 68-inch to 72-inch screens where people usually stand to perform their jobs.
Creative and functional storage can also be placed between workstations to create separation.
The Workspace Interiors team can also collaborate with other specialists such as heating, ventilation and air conditioning (HVAC) engineers to understand how the new physical barriers could affect air circulation. The HVAC pros may also recommend the addition of air purification systems.
To help control occupancy, facilities managers might also consider adding sensors that track how many people have entered and left the office space. Rolling tallies can be displayed on electronic signs to enable monitoring.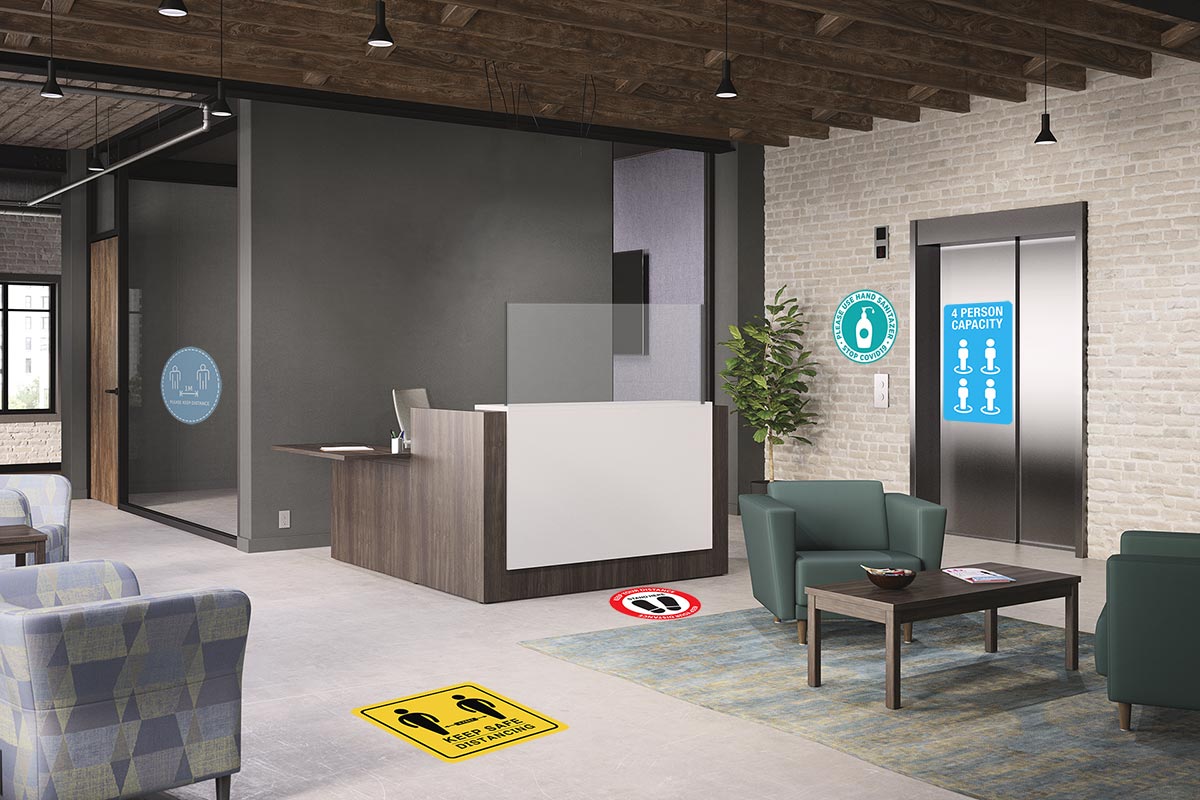 Visual aids
Facilities managers are also seeking ideas about visual aids to incorporate into their plans to remind employees about workplace social distancing guidelines.
The addition of signage about room occupancy maximums, sanitation stations, social distancing and cleaning reminders is useful to reinforce companies' new guidelines.
Directional floor signs can also be helpful in office spaces to guide employees through one-way foot traffic patterns. Signage can alert employees that a room has only one way in and out, so one-way traffic is not possible.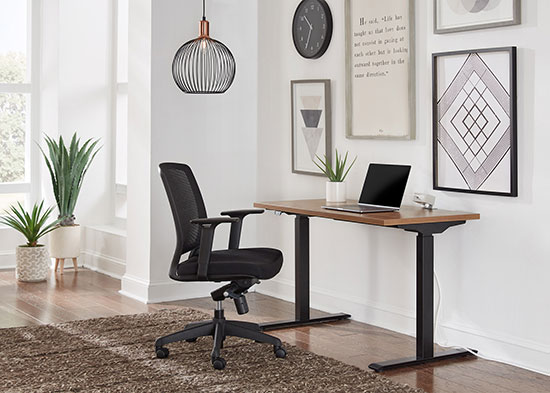 Work from home solutions
As part of their plans to stagger when employees are in the office, facilities managers may also want to offer employees standardized packages of furniture and technology equipment for home office use. Which items to include in each package depends on what employees use to support their specific work tasks.
Workspace Interiors can offer recommendations about work-from-home solutions that include desks, seating and ergonomic accessories to help promote wellness and productivity.
Looking forward
As new information becomes available, Workspace Interiors designers continue to engage in open-ended conversations with clients. Many facilities managers are interested in the potential of UV lighting and how it might be incorporated into furniture or offered as stand-alone equipment for deployment in office spaces.
Workspace Interiors designers stay abreast of evolving solutions through professional organizations, webinars and updates from furniture partners.
Looking for insight on solutions to reopen office spaces and reconfigure your workplace for social distancing? We can help.
All content provided herein is for educational purposes only. It is provided "as is" and neither the author nor publisher warrant the accuracy of the information provided, nor do they assume any responsibility for errors, omissions or contrary interpretation of the subject matter herein.