Author: Marina Fletcher
New Solutions Help Organizations Rethink Their Workplaces in Changing Times
As the world of work is changing, organizations may be thinking about ways to reconfigure their office spaces with workplace social distancing in mind. During these unprecedented times, furniture vendors have responded quickly with solutions to restructure and retrofit workplaces in ways that help promote social distancing.
Every office space has unique needs, and there are a number of options to consider that accommodate the new way of working. It is often possible to use these solutions in conjunction with your existing office furniture. Or you might consider adding new furniture solutions to create more individual workspaces.

Screens
Adding screens to workspaces can create space division to help with social distancing. For example, National® recommends selecting screen styles that best fit the situation:
Set on surface
Edge mount
Clamp mount
Full metal edge mount
Free-standing
The height of the screens you select will be determined by how closely employees are situated to each other or if workspaces are near high-traffic areas. In general, Kimball®, recommends deploying the same heights used for visual privacy: 50" for seated configurations and 68" for standing setups.
Free-standing floor screens can be used to create barriers for social distancing around shared office equipment, in common areas and between workspaces.
Screens are available in a variety of materials and colors to coordinate with existing office designs. You may want to consider enhanced cleaning protocols when selecting the screens. Hard surfaces such as acrylic are generally easier to clean and disinfect than soft surfaces.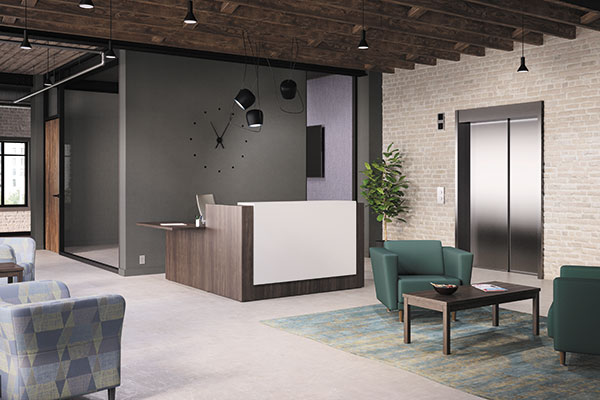 Furniture solutions
It may also be possible to reconfigure areas of your workplace using new or existing furniture to create more isolated workspaces for social distancing.
In reception, common areas and meeting rooms, moving seating six feet apart from each other is a way to encourage workplace social distancing. HON® and other vendors offer seating options made of fabrics and finishes that work better for enhanced cleaning practices, such as those recommended by the Centers for Disease Control and Prevention (CDC).
Kimball has a variety of seating configurations that feature high panels to create privacy nooks where employees can work. These options can also be used in common areas to configure front-to-back and back-to-back seating arrangements, helping to make it easier to maintain workplace social distancing.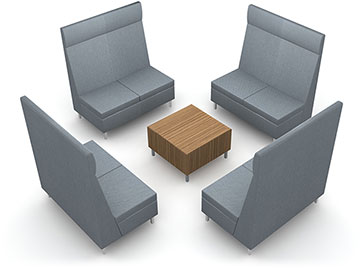 Redesigned seating configuration
Bookcases and cabinets can be positioned to create partitions in workspaces that fit in well with office design concepts while providing additional privacy for employees. You might also consider adding mobile workstations or carts that can be easily repositioned depending on the number of employees in an office space at a given time. Solutions like this offer flexibility if your company chooses to deploy adaptable scheduling options for managing employees when they are in the office and when they work from home.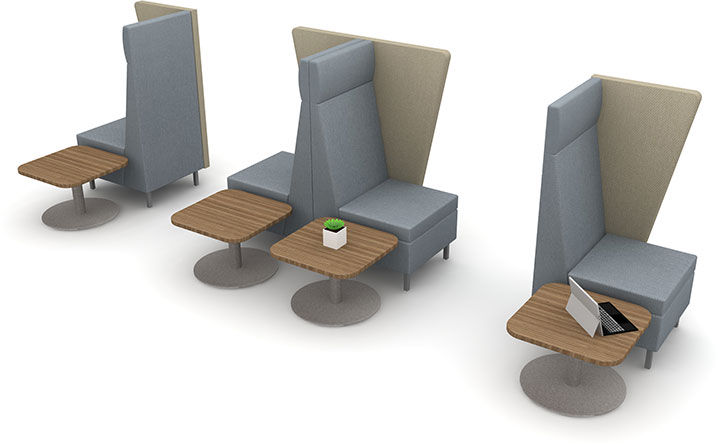 Planning for the New Normal
The return to the workplace will probably entail many changes for employers and employees. Fortunately, there are available solutions to consider that work with or augment your existing workspace layouts to encourage social distancing and productivity.
Looking for insight and guidance on solutions to reconfigure your workplace for social distancing? We can help.
---
All content provided herein is for educational purposes only. It is provided "as is" and neither the author nor publisher warrant the accuracy of the information provided, nor do they assume any responsibility for errors, omissions or contrary interpretation of the subject matter herein.
ODP and ODP Business Solutions are trademarks of ODP Business Solutions, LLC. © 2023 ODP Business Solutions®. All rights reserved.