Author: Marina Fletcher
What does the new-era office look like?
If you asked your office space what it would look like in five years, what would it say?
We're stepping into a new era of office life. Employees work in different locations from day to day, and as they return to the office, they look forward to experiencing many things they remember from before the work-from-home days.
At the same time, people may be expecting some different things from their work environment. Using office design to make a more comfortable workspace may help to increase productivity and make the shift easier from off-site to on-site work.
The Workspace Interiors team at ODP Business Solutions offers solutions and services that can help employees collaborate, learn, work quietly, and socialize. Look to us to help you customize your office design to enable people to do their best work, now and in the future.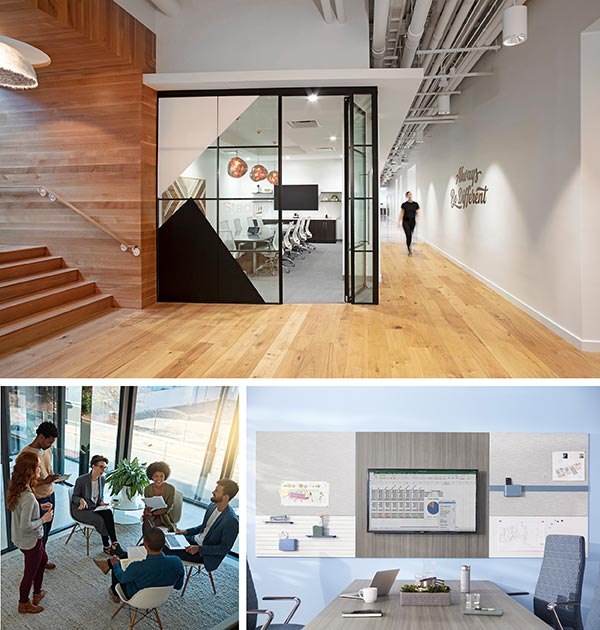 Create spaces based on function and noise level
Consider your office space in terms of employees' activities. Workspace Interiors can help you define areas that support the kind of work people are doing in the office. Here are some examples of things to consider about office layouts.
Areas closest to public entrances
Free-flowing, vibrant, and flexible spaces
Places where noise doesn't impede people's work
Environments ideal for group activities, training, and lively collaboration
Especially enjoyable areas for people who have missed the in-person interactions at the office
Deeper into the space
Quiet environments
Areas that enable better focus
Environments for employees who want privacy or low noise
Comforting spaces for people whose home environments don't lend themselves to quiet concentration
With help from Workspace Interiors, you can designate spaces that can help increase productivity and collaboration. Such activity-based workspaces reflect the flexibility many people expect when they go back to the office.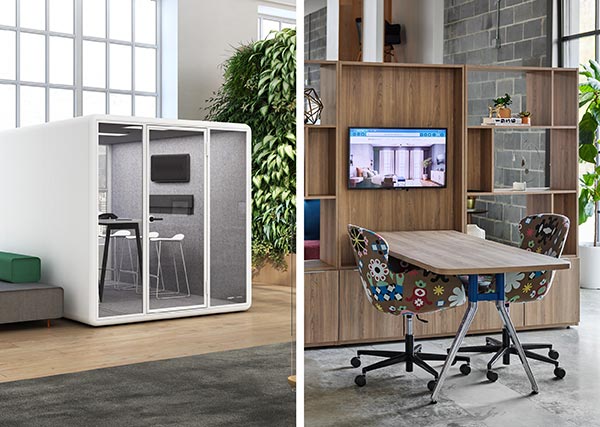 Designing for flexibility supports all kinds of work
A leading trend is revamping desk space by eliminating the fixed workstation as a tool. Let Workspace Interiors help you create flexible spaces where employees can choose their own workspace to suit their daily tasks. Here are some examples:
People brainstorming might decide to work in a bright, open space dedicated to collaboration
Sales employees might feel comfortable in more enclosed areas where their phone calls don't disturb anyone
Small teams might pick outdoor seating areas for their meetings
A quiet desk is a perfect spot for an employee writing a data-heavy report
Giving people the freedom to move their locations based on their tasks and teamwork is functional and empowering. Workspace Interiors can help you make the most of your space, so it supports and inspires employees to do their best work.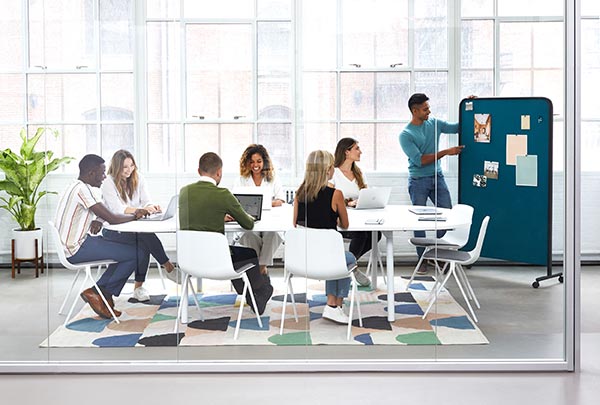 Returning to the office brings a new point of view
As your workforce comes back to the office, Workspace Interiors can help you see your space with a fresh perspective. Office improvements can help you build a thriving culture, which may lead to better employee engagement, retention, and recruitment.
These ideas can get your creative energy flowing:
Modular workspaces can give way to wider hallways that encourage the type of productive conversations that employees might have missed while they worked from home
Adjustments to lighting, wall art, and design standards can create even better conditions for people to collaborate
Labeling spaces, such as "innovation area" or "collaboration area," offers employees a different perspective of a redesigned environment
Workspace Interiors is here to help you work toward those objectives and more. From office redesigns to smaller changes in lighting and seating, we can help you change your space and deliver a fresh in-the-office experience.
Rely on Workspace Interiors
With work environments becoming more important than ever, it helps to have a collaborator in your corner. Our associates will collaborate with you to understand how your employees work and create spaces that suit them.
Find out how you can design your office space for the future. Contact Workspace Interiors today.
---
All content provided herein is for educational purposes only. It is provided "as is" and neither the author nor publisher warrant the accuracy of the information provided, nor do they assume any responsibility for errors, omissions or contrary interpretation of the subject matter herein.
ODP and ODP Business Solutions are trademarks of ODP Business Solutions, LLC. © 2023 ODP Business Solutions®. All rights reserved.