The Great Outdoors, Corporate Style: Alfresco Workspaces Are a Breath of Fresh Air
Photo credit: HMC Architects and Lawrence Anderson
In recent years, office design trends have included elements like open offices, a return to mid-century style and the incorporation of many flavors of technology. But one emerging trend, which hasn't been talked about as much, is the use of outdoor workspaces.
From coast to coast, architects and companies are finding innovative ways to allow staff to work productively outdoors. In a way, outfitting open-air spaces to be useful work environments is an evolution in open office design but includes a collection of Mother Nature's elements to contend with.
Aside from providing a breath of fresh air to traditional corporate settings, the concept of working outside also "works" from a wellness perspective. It's good to let team members get their vitamin D and feel soothed by natural elements while working. This approach is a clever departure from bringing the outdoors inside — outdoor workspaces literally bring the office outside.
Outdoor workspaces should be designed with the same considerations as other open offices — especially when it comes to privacy and sound. Outdoor workspaces offer a natural opportunity to bring "green" to the workplace, which is another growing trend in office design. Incorporating live plants in a variety of configurations not only adds ambiance, but it also offers opportunities to create natural barriers for privacy. Sound can be masked with water features as well as with background music via inground speakers.
Outfitting the outdoors with today's technology
But speakers aren't the only technology consideration for alfresco workspaces. Although reliable Wi-Fi is an easy-to-overlook utility, it's an absolute necessity. Convenient GFCI power, in many cases inground, is another potential choice.
How's the weather?
Working in the elements can introduce a set of needs that aren't part of the everyday office design. Weather considerations that need to be planned for include:
That may sound like a tall order, but a well-designed outdoor space can elegantly withstand what Mother Nature has in store.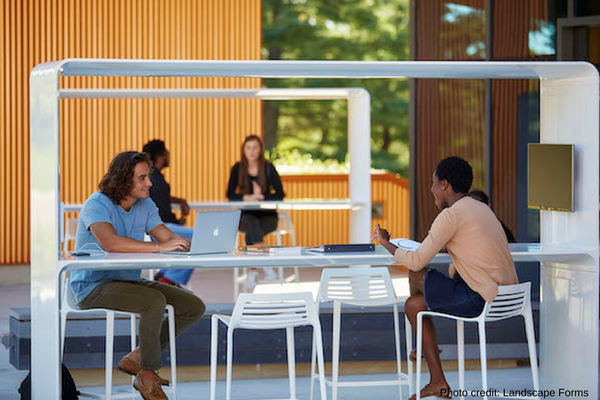 Sun
To provide the shade needed for a functional outdoor workspace, there are several go-to design elements:
Taut suspended triangular shades
Umbrellas
Lanais
Each of these solutions offers a break from the sun and screen glare while also retaining the benefits of being outdoors.
Heat
As enticing as being outdoors in a balmy climate can sound, sometimes the temps are something to contend with. Here are a few options that can mitigate a sweltering day, so associates can still enjoy working in natural surroundings:
Ceiling fans
Mounted fans
Misters
Each of these also has the added benefit of offering some degree of sound masking.
Cold
Many outdoor workspaces are used well into the fall and winter by adding a few items to make the space "warm," both figuratively and literally:
Heat lamps
Outdoor fireplaces
Rain
Most associates wouldn't actually work outside in the rain, but it is possible in some situations. Regardless, decking and office furniture must be specified that will tolerate wetness. Rain-friendly design options could include:
Furniture designed with drainage channels, which are often unnoticeable
Decking engineered with drainage in mind
Fabrics that are fade resistant and dry quickly
Wind
You probably won't have many associates working outdoors when it's windy, but the design should still be planned to stay put in windy conditions. The main concern to think about regarding wind is weight. Make sure that all furnishings are heavy enough to stay in place.
A little planning goes a long way in designing a workplace oasis that associates will look forward to visiting. The outdoor workspace is, as The Huffington Post referred to it, "the next workplace frontier." How does your company plan to explore it?
---
All content provided herein is for educational purposes only. It is provided "as is" and neither the author nor publisher warrant the accuracy of the information provided, nor do they assume any responsibility for errors, omissions or contrary interpretation of the subject matter herein.
ODP and ODP Business Solutions are trademarks of ODP Business Solutions, LLC. © 2023 ODP Business Solutions®. All rights reserved.