Author: Marina Fletcher
Photo Credit (above): Kimball Alterna
The Case for Modular Casework: When to Choose Manufactured Furniture vs. Millwork
An essential element of every workspace is storage options that are both practical and contribute to the overall design aesthetic. Shelving and cabinetry solutions should support workflow needs and look great.
There are two options to consider when planning furniture selections for a space that meets both of these objectives:
Millwork – custom-made built-ins assembled on-site by the construction company. The furniture is commissioned for the design project and becomes a permanent part of the space.
Modular casework – manufactured furniture that is delivered to the site for installation in the space and is reconfigurable. Designers choose from a variety of vendors and styles to get the functionality and look they want.
Both options meet the immediate needs of the workspace design, but modular casework offers many long-term advantages not possible with millwork. Designers should consider the big picture when deciding which route to take to outfit new or updated office sites, healthcare settings and educational facilities.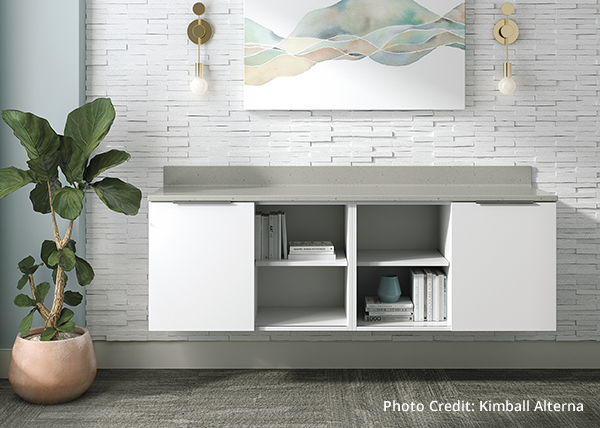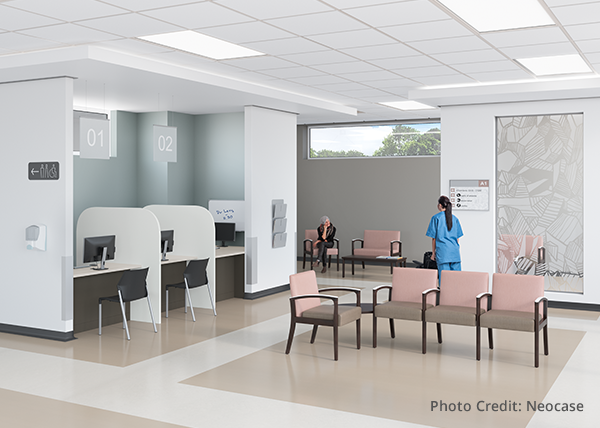 Advantages of Modular Casework
In most instances, modular casework is the intelligent alternative to millwork because it provides both near-term and future-proof benefits:
Flexibility – By its very nature, modular casework is available in a wide variety of coordinated components that are easy to install. As needs evolve, unlike millwork, it is possible to adapt the furniture to new configurations and add supplemental components from the manufacturer. Adapting or creating additional millwork requires a millworker to try and match the design, materials and colors of the original furniture.
Movability – Because modular casework furniture is not permanently installed in the space, it can be moved to a new location, which means that the company continues to benefit from its investment. It may be possible to earn various LEED credits for Interior Design and Construction division when using modular casework.
Financial Impact – Traditional millwork is typically considered permanent to the building and would follow the 39-year building depreciation. Modular cabinetry is not classified as part of the building construction costs and could result in tax advantages. Modular casework is also generally less expensive than custom-built millwork.
Sustainability – Many modular casework manufacturers offer a variety of products that have earned sustainability certifications, such as:
More straightforward deployment – Because millwork becomes a permanent part of the space, permits are required to ensure that the construction meets the code requirements. In comparison, because modular casework is furniture, it does not require the hassle or cost of the permitting process.
Warranties – In most cases, millwork comes with a warranty of less than one year. Modular casework manufacturers provide a Limited Lifetime warranty. Depending on the manufacturer, some can offer up to a 25-year warranty to back its commitment to customers.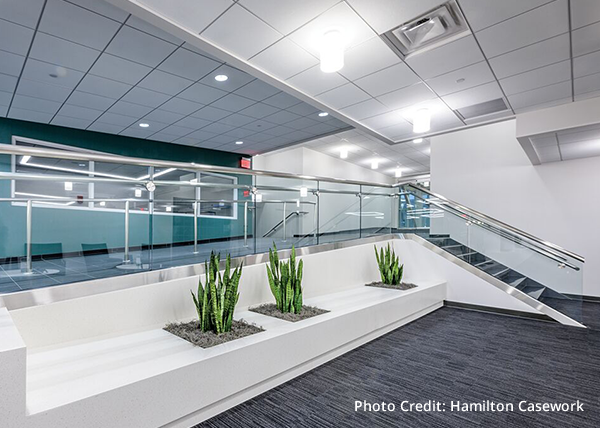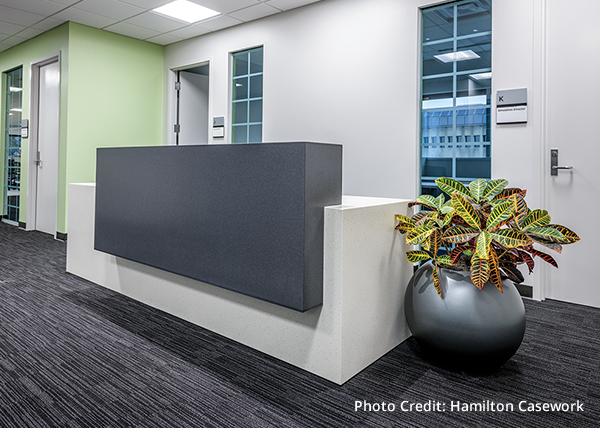 Custom-built Look, More Flexibility
Modular casework is an intelligent alternative to millwork. Designers can select high-quality options from multiple furniture vendors, which fit the functional needs of an organization while maximizing the potential of the overall design concept. It is easy to create the look of custom-built millwork without sacrificing the cost and flexibility advantages of modular casework.
Interested in learning more about the benefits of modular casework? We can help.