Molly Martis and Stephanie Simpson
Photo credit: Wieland
How patient-focused design can help improve satisfaction scores
What do patients want during a stay in the hospital? The obvious answer is a clear plan of treatment that produces positive outcomes for their health. But that's not all. According to Consumer Perspectives on Patient Experience, 2018, a study conducted by The Beryl Institute, they also expect positive patient experiences (PX) across the continuum of care, including "a healthcare environment that is clean and comfortable."
Patients have an easy way to let hospitals know what they think about PX. The Centers for Medicare and Medicaid Services (CMS) requires hospitals to field the Hospital Consumer Assessment of Healthcare Providers and Systems (HCAHPS) survey to measure patients' perceptions of their hospital experience. The results of the patient satisfaction surveys (pronounced "H-caps") can affect everything from reimbursements rates to comparison ratings with other hospitals.
In addition to questions about care, the survey asks patients to assess the hospital environment and if they would recommend the hospital to others. These topic areas are where design professionals can help make a positive impact. By implementing patient-focused design principles, hospitals can create welcoming spaces that influence patients' perception of the quality of their stays and ultimately improve the overall satisfaction scores.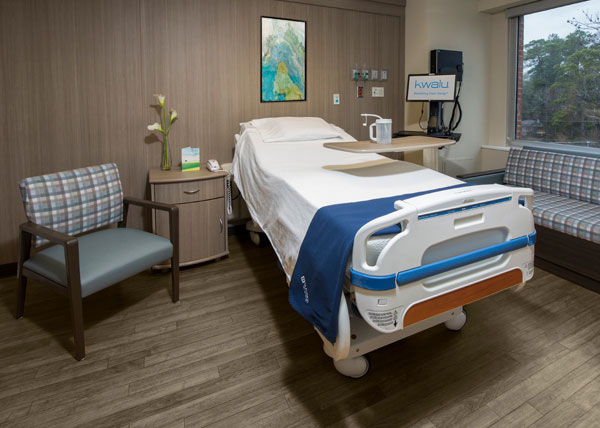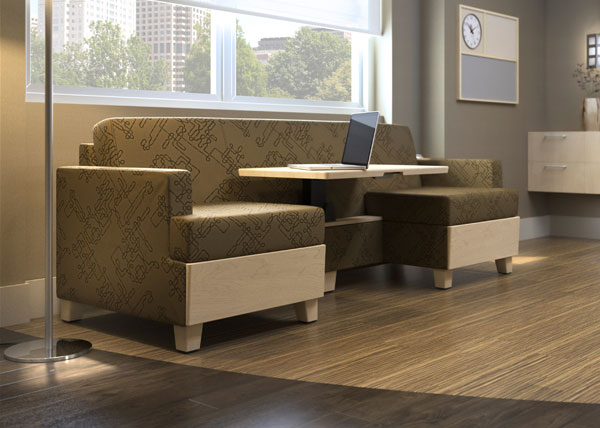 The elements of patient-focused design
In many cases, hospitals are responding to the trend toward private rooms by reconfiguring existing floor plans. As a result, the footprints of patient rooms are shrinking, but equipment needs remain the same. Patients also want rooms that will accommodate their families or caregivers.
These patient-focused design elements demonstrate to patients that their comfort and need for emotional support is important for how the hospital administers their care.
Welcoming – Patients should feel a sense of calm (not dread) when they enter their rooms, not unlike checking into a hotel and finding on-trend colors, design elements and materials. The décor of the room sets expectations for the quality of care they will receive. Artwork choices should be intentional and add to the atmosphere of the rooms.
Visitor Friendly – Furnishings selections should be comfortable, functional and inviting for the patient's family and guests. Multiuse furniture, which easily adapts to different needs, packs a lot of functionality into a small space. For example, the sleepToo® collection from Wieland includes furniture that transforms from a sofa to a comfy bed. Many options include tables that raise and lower to accommodate laptops or create a space for kids to do homework or play games or share a meal.
Comfortable – While patient room furniture needs to be durable, it is important that it is also comfortable to sit on and pleasant to touch. Does furniture move easily so visitors can change positions in the room if the patient is sleeping or awake? Are there enough easy-to-reach outlets for the patient and visitors to charge mobile devices without getting in the way of hospital equipment?
Privacy – Physicians and the nursing staff need to be able to share sensitive information with patients without the conversation carrying into the hallway or adjoining rooms. The addition of sound-masking options keeps discussions where they should be … in the room.
Wayfinding – Is there appropriate signage throughout the hospital to make it easy for patients and visitors to find their way to the right places?
Impact on staff retention
The PX also has a positive effect on staff retention. Environments that are comfortable for patients impact how the medical, service and administrative staffs feel about their workplaces. Fresh design concepts, thoughtful artwork, adaptable healthcare furniture solutions and sound masking create positive work settings. In a time when recruiting and retaining qualified staff is challenging, perks that promote employee satisfaction are critical.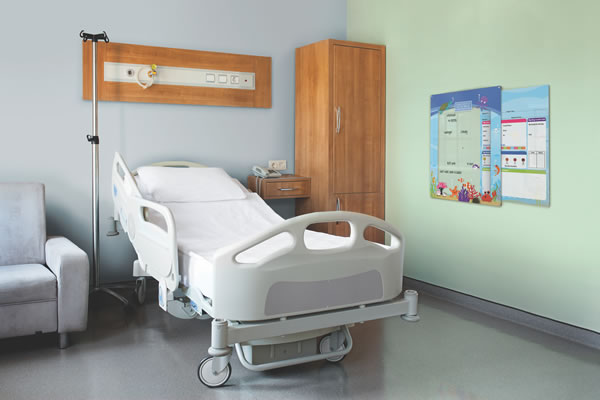 VividBoard InHarmony Changeable Glassboard
Now is the time
Improving and maintaining high HCAHPS scores are key for every hospital in order to receive reimbursements. The ratings reflect the planning and effort that go into providing quality healthcare and a positive PX. Planning can have a positive impact on scores. Selecting appropriate furniture solutions, which can minimize cross-contamination that can lead to hospital acquired infections (HAIs) should be considered in any healthcare furniture decision-making process.
The Beryl Institute study neatly summarizes why this is important: "Experience is not something to be taken for granted, it is not just an idea at the softer edges of healthcare, but rather it sits at its heart and has significant impact and serious implications for how healthcare is led into the future." Patient-focused design plays an important role in building and creating that momentum.