Author: Marina Fletcher
Optimize your hybrid work environment with office design
With so many organizations concerned about hiring and retaining employees, it's smart to take any advantage you can get. How attractive is your office to hybrid employees?
People are demonstrating a heavy preference for a hybrid way of working. Designing an office that can help you satisfy both current and future employees is one way to sidestep staffing challenges.
The Workspace Interiors team at ODP Business Solutions can help guide you on how to best utilize office design to your advantage. We combine the latest trends with reliable best practices to help you set up your office in ways that support employees and inspire productivity.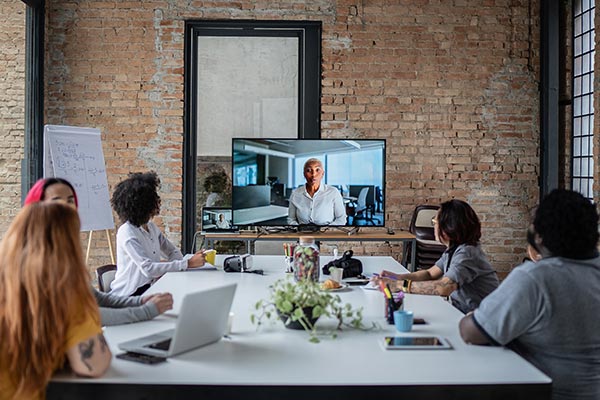 Get the latest on adapting to hybrid working
People used to perceive working remotely as a perk for VIPs or entrepreneurs, but that mindset has shifted in recent years. Today, 76% of companies have a flexible work policy — a whopping 65% increase compared to three years ago.
The backbone of hybrid work is technology that facilitates collaboration between remote and in-office colleagues, with some remarkable side effects.
By 2021, employees spent 2.5x more work time in Microsoft Teams meetings compared to two years earlier.
Those meetings got longer too — the average meeting grew from 35 minutes to 45 minutes.
Approximately 14% of workers using collaborative teleconferencing tools report feeling very or extremely fatigued after Zoom calls.
On-camera meetings make it easy to misinterpret others' moods and personalities, which increases emotional distance between team members. Employees miss the clarity and bonding that come from in-person collaboration and body language cues.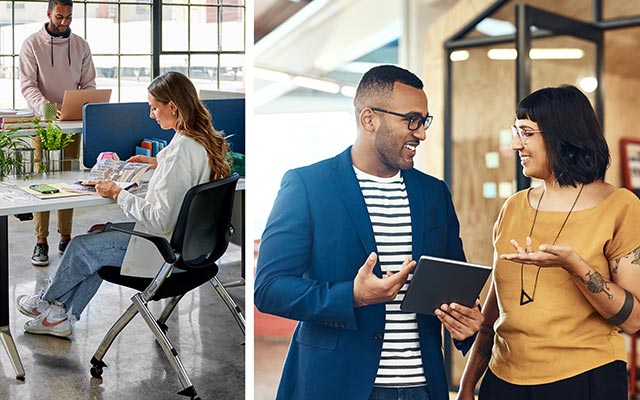 Employees want hybrid arrangements
Whereas technology can help people balance productivity with personal comfort, the office reinforces company culture. To 87% of employees, the office is important for collaborating and building relationships.
This appreciation for hybrid work isn't simply a trend. Instead, it has become a preference for employees and a prerequisite for job seekers. According to a recent survey, 65% of respondents said they would prefer positions with organizations that offer remote work — a 9% increase over a year earlier.
Through this evolution, an opportunity has emerged. Workspace Interiors can help organizations use office design to support, retain, and recruit employees as they:
See the office as a space for collaborating
Want the ability to read body language in person
Build relationships more easily in the office
Welcome a dedicated space for work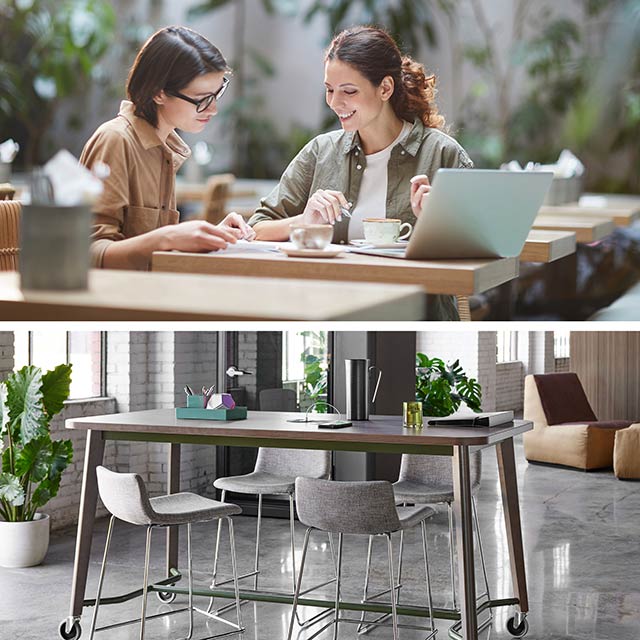 Make your office stand out to hybrid employees
Workspace Interiors can help you consider practical, functional solutions like these:
Collaborative spaces: You can help satisfy employees who want in-person work by using open spaces, easy-to-move furniture, furnishings for outdoor meeting areas, and more.
Furniture standards: A furniture standards program creates cohesion across offices and can help employees feel included. Look to Workspace Interiors for help designing a plan that fits your budget and fosters greater productivity.
Technology-fueled collaboration: As leaders invest even more in virtual collaboration tools, Workspace Interiors can help bridge the gap between on-site and off-site staff with seating, screens, and spaces that support teamwork.
Employees' home offices: Equipping employees for hybrid work may help them maintain or even increase their productivity.
Rely on Workspace Interiors
Our design associates can help you design your office to support hybrid work. You can depend on us to collaborate with you on office space planning that can help further your culture, increase retention, and attract talent.
Find out how your organization can use office design to address hybrid work. Contact Workspace Interiors today.
---
All content provided herein is for educational purposes only. It is provided "as is" and neither the author nor publisher warrant the accuracy of the information provided, nor do they assume any responsibility for errors, omissions or contrary interpretation of the subject matter herein.
ODP and ODP Business Solutions are trademarks of ODP Business Solutions, LLC. © 2023 ODP Business Solutions®. All rights reserved.