Author: Marina Fletcher
One Size Does Not Fit All: Tips for Choosing Ergonomic Chairs
Employees working remotely have likely discovered that the chairs in their homes that are great for lounging or dining don't provide the support they need for extended periods in front of their computers. It may be time to offer ergonomic office chairs to your distributed workforce.
Before you place an order, there are a few things to consider when trying to find chairs that are well-suited for the recipients — because when it comes to ergonomic chairs, one size does not fit all.
The Benefits of Ergonomic Office Chairs
Ergonomic office chairs are designed to support users' natural posture and help reduce leg stress points on the body. Because the chairs are adjustable, users can make sure that their feet rest comfortably on the floor, armrests are close to the body and the backrest and the lumbar supports are angled for optimal positioning.
A few features are considered universally beneficial when selecting ergonomic office chairs. A recent study1 by a certified professional ergonomist and professor at the University of Cincinnati College of Medicine suggests that a good office chair incorporates:
Adjustable height and armrests
Five casters
Lumbar support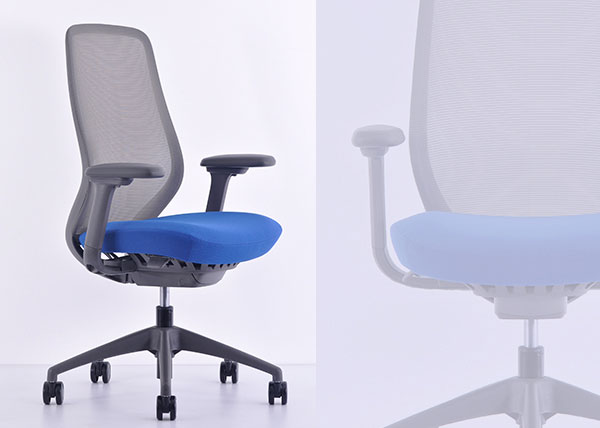 Finding the Right Fit
The human body comes in many shapes and sizes. It can be helpful to let employees "try on" chairs before purchasing to get a good fit. While actually test-driving chairs in person is difficult right now, a careful review of chair specs can help you determine what options may be best for specific employees.
The process can include verifying that the ergonomic chairs you are offering match the user's preferences in two categories:
Components

Color
Chair material
Frame material
Chair dimensions
Recycle content percentage
Assembly requirements

Functionality

Weight capacity
Seat width
Minimum and maximum height — floor to seat
Armrest height adjustment capabilities
Swivel/recline capabilities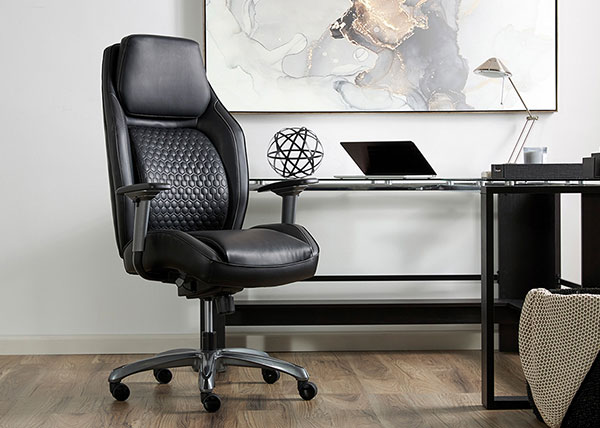 For executive-style seating, the Shaquille O'Neal2 line of office chairs offers a Custom Support® system that features individually wrapped coils to reduce motion and provide all-body support. The chairs also utilize AIR® lumbar support to help with spinal movement and body alignment, while the waterfall seat cushion helps reduce stress on legs.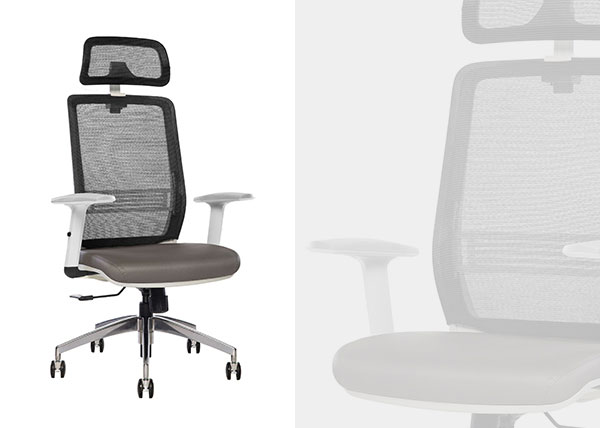 Ergonomic chairs also feature a variety of fabrics. Sinfonia Sing chairs feature a unique copper mesh fabric that the manufacturer states will result in a process that is self-sanitizing with biocidal, antifungal, antiviral and anti-odor properties. The chairs are available in a variety of configurations with different back heights, armrest and fabric/frame color options.
If you have employees who prefer a lighter aesthetic and lots of color options for the chair seats, you might consider the WorkPro® 6000 — an exclusive ODP Business Solutions® chair model, which just launched. The entire WorkPro collection of ergonomic chairs can be viewed via an online catalog. You'll discover a variety of ergonomic chairs to find the combination of styles, adjustment options and price points to suit your requirements.
A Few Questions Can Make All the Difference
By asking employees a few questions about their preferences for materials and their body characteristics, you can recommend ergonomic chairs that fit both their homes and their frames. That way, you'll be able to suggest a more comfortable option that meets individual needs.
Looking for insight and guidance to select ergonomic chairs that work for your distributed workforce? We can help.
1Davis, Kermit G., Susan E. Kotowski, Denise Daniel, Thomas Gerding, Jennifer Naylor, and Megan Syck (2020). The Home Office: Ergonomic Lessons From the New Normal. Ergonomics in Design, 28(4) 4–10. https://journals.sagepub.com/doi/10.1177/1064804620937907#articleCitationDownloadContainer.
2Shaq™ and Shaquille O'Neal™; Rights of Publicity and Persona Rights: ABG-Shaq, LLC.
---
All content provided herein is for educational purposes only. It is provided "as is" and neither the author nor publisher warrant the accuracy of the information provided, nor do they assume any responsibility for errors, omissions or contrary interpretation of the subject matter herein.
ODP and ODP Business Solutions are trademarks of ODP Business Solutions, LLC. © 2023 ODP Business Solutions®. All rights reserved.