Author: Heather Mastrangeli
Easy on the Eyes: Office Lighting Ideas for Home and Work
Whether employees are working from home or in the office, lighting can play a role in whether they are motivated and productive or unfocused and tired. The concern is how light sources can affect eye strain, especially in relation to the extended amount of time many people spend looking at screens on their digital devices.
In many offices, 2′ x 4′ fluorescent overhead lighting is still the standard option provided by building owners. It's typically a lower-cost way to provide a long-lasting light source for large spaces or individual offices. But fluorescent lights can be annoying because they flicker, which may cause people to experience eye strain, headaches and stress.1
In home offices, light sources can vary widely depending on the layout of rooms, availability of overhead fixtures and placement of windows.
The designers from ODP Business Solutions™ Workspace Interiors recommend solutions that create layers of lighting in workspaces, combining overhead and task sources, as well as natural light when possible.

Types of light sources
Overhead lighting can either be direct or indirect. The illumination from direct lighting is focused on a specific area and is most common in office applications today. It is generally the harshest source of light, which can be hardest on the eyes.
Indirect lighting bounces off the ceiling or walls to create ambient lighting, which can add to the overall brightness of a space without casting harsh light beams.
Many companies have switched from fluorescent to LED overhead lighting to eliminate associated issues, reduce energy costs and lower the amount of heat generated from the lighting units.
Task lighting is generally used to illuminate a work surface for better visibility of papers and other items on a desk. One way to help reduce eye strain is to consider keeping lighting levels even as employees transition from looking at a bright computer screen to a work surface. Consideration should also be given to how task lights are positioned, so they don't create a glare on computer screens.
Natural lighting is sunlight that enters through windows. Having access to natural light can help improve the health and wellness of employees, according to a study from Cornell University that looked at the benefits of optimizing natural light in office settings.2
Lighting Ideas for Office Space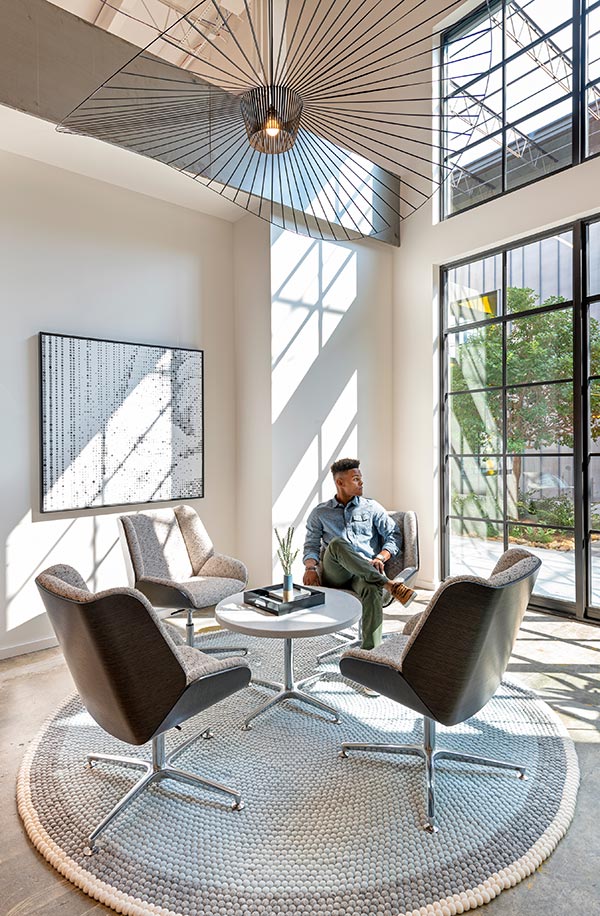 For both office and home, the first step for creating a lighting plan is to consider how people will use the space, and then determine appropriate light levels to support what employees need to be productive.
Incorporating the right mix of lighting sources to create environments that aren't too bright or dim can help reduce eye strain and make it easier to stay focused.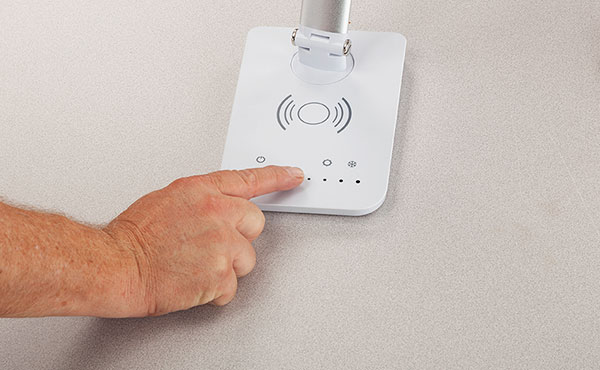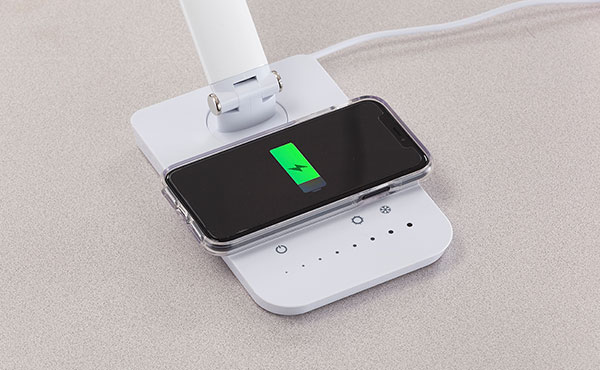 Office Lighting Design Ideas
Take a look at the furniture layout throughout the office to determine how employees will use different areas. There are a variety of commercial-grade lights available that can help define seating areas, deliver appropriate light levels for individual workstations and harmonize the aesthetic feel of the office.
For example, pendant lighting can be added above a seating area to define the space. Because pendant lighting is typically installed in a manner that extends from the ceiling closer to surfaces, it can set the stage for more intimate settings where employees can collaborate. Pendant lighting can also help with wayfinding in open spaces to indicate where shared spaces are located.
Tenants can check with their landlords to see what options are available to use existing circuitry to augment lighting sources.
Task lighting that is adjustable so each user can control the light output is useful at workstations. Look for task lights with occupancy sensors that turn off the units when movement is not detected. Many task lights also come with USB ports to charge mobile devices.
It helps to analyze how natural light enters a space and be intentional about the installation of window shades. There are many shade options that can be regulated by remote control. Or consider using smart systems that automatically adjust shades depending on the time of day and season.

Home Office Lighting Design Ideas
When lighting a home office, it's helpful to make sure light comes in from a variety of angles. As the use of videoconferencing increases, employees can position lights to eliminate unflattering shadows on their faces.
Lamp shades on task lighting offer some diffusion to soften the harshness of the light. Sheer curtains can also help diffuse natural light that might be too bright at certain times of the day.
For home offices, a floor lamp next to the desk can be useful to even out the light between the employee and the computer monitor. Floor lamps are also easy to reposition as the light from windows changes with the seasons.
The Right Mix Makes a Difference
When it comes to productivity and employee well-being, creating lighting plans that incorporate the right mix of overhead, task and natural lighting is important in the workplace and in home offices.
Looking for insight and guidance to create office lighting solutions? We can help.
1Adams, Chris. "How Fluorescent Lights Affect You and Your Health." ThoughtCo. Updated August 28, 2019. https://www.thoughtco.com/how-fluorescent-lights-affect-you-1206641
2Hedge, Alan. "Worker Reactions to Electrochromic and Low e Glass Office Windows." July 23, 2018. Ergonomics International Journal. https://medwinpublishers.com/EOIJ/EOIJ16000166.pdf
All content provided herein is for educational purposes only. It is provided "as is" and neither the author nor publisher warrant the accuracy of the information provided, nor do they assume any responsibility for errors, omissions or contrary interpretation of the subject matter herein.