Author: Marina Fletcher
NeoCon19: What to see, experience and eat
NeoCon19 is coming up fast. The event that shows the commercial design industry what's next is held in Chicago at the Merchandise Mart every June. This year's dates are June 10-12.
Workspace Interiors by Office Depot employs design professionals all over the United States, and the Chicago area is home to one of our local showrooms, so we know the area well. If you're headed to the show for the first time or the tenth time, there are a few sponsored events you don't want to miss. We also have some great ideas for sites and restaurants near the Mart for you to check out when you take a break from the show.
What to see at the show:
National Furniture – make sure to get a sneak peek of new furniture and mingle with industry colleagues in National's Chicago showroom at 325 N. Wells St., Suite 110. On Monday and Tuesday, the showroom is open from 8:30 a.m. to 6:30 p.m. and offers complimentary breakfast, coffee bar, lunch and live entertainment starting at 4:30 p.m. On Wednesday, stop in between 8:00 a.m. and 5:00 p.m. for complimentary refreshments.
Global and Offices to Go are exhibiting new products and finishes for the workplace, healthcare, and education vertical markets. Stop by the Global showroom (10th floor, Suite 1035) and Offices to Go booth (7-5110) to check it out. Plus, Global is hosting an open invite Cocktail Event on Monday night from 4:30 to 6:30 p.m. in their showroom.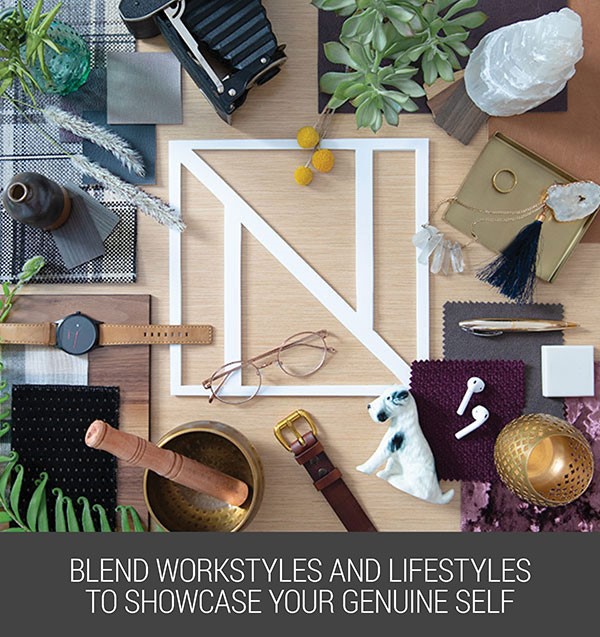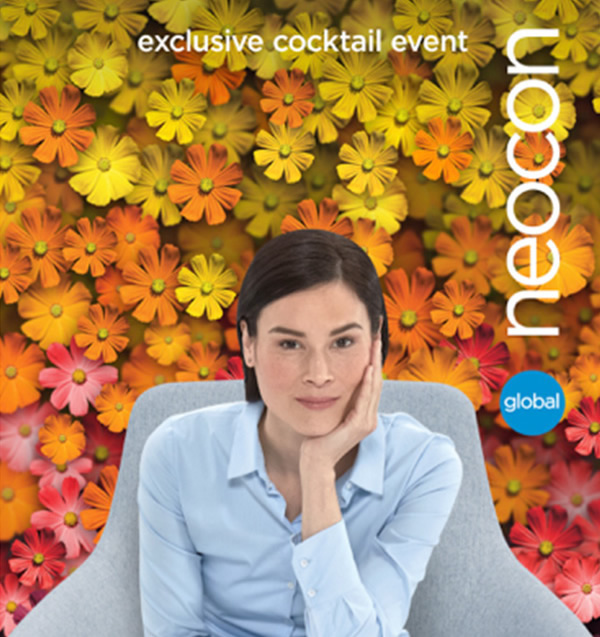 Kimball invites you to get Sophisticozy™ in their Chicago showroom at 325 N. Wells St., across from the Mart. The showroom is open on Monday from 8 a.m. to 7 p.m. with live music, food and drinks starting at 4 p.m. Visit the showroom between 8 a.m. to 5 p.m. on Tuesday and Wednesday. Breakfast, specialty coffee drinks and lunch are available on Monday and Tuesday.
HON is hosting tours of their showroom at the Mart in Suite 1130 from 9 a.m. to 5 p.m. on Monday and Tuesday, and from 9 a.m. to 3 p.m. on Wednesday. Click here to schedule a tour.
Trendway's 2019 NeoCon Opening Day and Architectural Boat Cruises is a must for every attendee. Click here for more info and to RSVP for the happy hour and one of two cruise outings on Monday, June 10.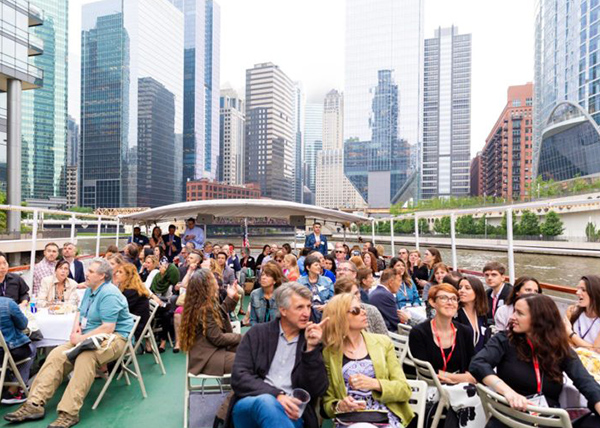 Trendway's 2019 NeoCon Opening Day and Architectural Boat Cruises
What to experience in the neighborhood:
Flight Club is a fun place to go with a group to try out your dart-throwing skills in a special area called oche (rhymes with hockey) that holds up to 20 people. Dart-tracking technology provides instant scores, and you can relive every toss with instant replay. Servers are happy to deliver food and "bespoke cocktails" while you play. You need a reservation to secure an oche. Across the river from the Mart at the corner of Wacker and Clark at 111 W. Wacker Drive.
P.O.S.H. is a delightful shop at 613 N. State St. that features an eclectic assortment of vintage hotel and estate silver, restaurant china and European flea market finds. After immersing yourself in thousands of new products and services at NeoCon, treat yourself to a one-of-a-kind souvenir to brighten your own living space.
Paper Source is one of those places that gives designers goosebumps the minute they enter. This stationery shop is filled with funky paper, one-of-a-kind gift items, colorful office supplies, unbelievable wrapping paper, and so much more. Your eye doesn't know where to look first. 232 W. Chicago Ave.
What to eat:
The Kitchen at 316 N. Clark located in an old industrial space right on the Chicago River and just a few blocks from the Mart. Fire up your Open Table app and make a reservation to enjoy locally sourced ingredients and a menu that changes to reflect the season. Ask for seating on the patio and watch boats on the river while sipping a summer-inspired cocktail.
Eataly Chicago is 63,000 square feet of unique eateries and shops. We recommend saving some room in your suitcase to bring home artisanal goodies, cookbooks and housewares you likely won't find at home. Get there early for breakfast before the show or for a late-night snack after a long day. 43 E. Ohio St.
Farmhouse Chicago serves up a true Midwest experience with a focus on beers, wines and food sourced from Illinois, Wisconsin, Indiana and Michigan. They call their approach to service "honest to the heartland." You should definitely try the beer-battered Wisconsin cheese curds. Yum. 228 W. Chicago
Lou Malnati's is a great option within walking distance of the Mart to experience Chicago-style deep dish pizza. We recommend arriving earlier in the day for faster service. Order a personal size deep-dish pies, so everyone in your group gets exactly what they want. 439 N. Wells St.
New this year at NeoCon is The Urban Boardwalk located on the South Drive of the The Mart along the Chicago River. You'll find sheltered and unsheltered areas to work, relax, connect and unwind. You'll probably find a few Workspace Interiors' team members in the crowd. Please say hello! We'd love to chat with you about what you're learning and what excites you the most.