Author: Marina Fletcher
Move at the speed of work with flexible furniture
Do you remember when every employee had their own permanent desk, with desks grouped by department? How about when all our meetings were in person, in conference rooms?
Today's office is about where and how people work together instead of dozens of fixed, single-purpose working spaces. Now organizations are looking for ways to support collaboration using office space and furniture designed for flexibility.
Whether you're already working with flexible furniture or examining how you might incorporate it into your plans, the Workspace Interiors team at ODP Business Solutions can provide forward-thinking furniture solutions that suit all your employees' activities.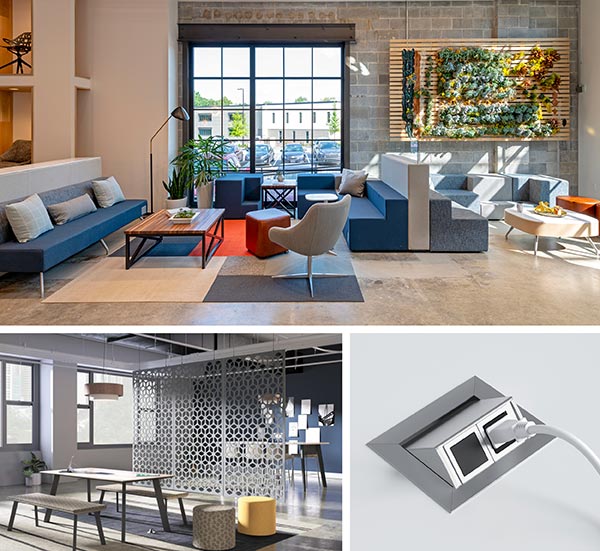 Flexibility in furniture can drive flexibility in your team
Matching the pace of your business, your employees want the ability to adapt quickly, again and again. You can give your team the freedom to move or change positions, locations, or room setups with flexible furniture items like these.
Movable walls offer flexibility in planning spaces, so you can set up areas that work for your teams' collaboration — without having to take on a new construction project.
Modular seating is easily reconfigured and can work as workstations, for comfort and changing positions, for meetings and lounging, etc.
Power ports in chairs, under tables, and between seat cushions enable people to stay connected.
Partitions and screens offer privacy and help create an environment that can motivate teams and inspire creativity.
Lighting with dimmer switches and temperature adjustments turn a quiet workspace into a bright spot for a team meeting.
Mobile storage, such as file cabinets and personal lockers, enables employees to set up any spot as a workstation — with or without additional materials.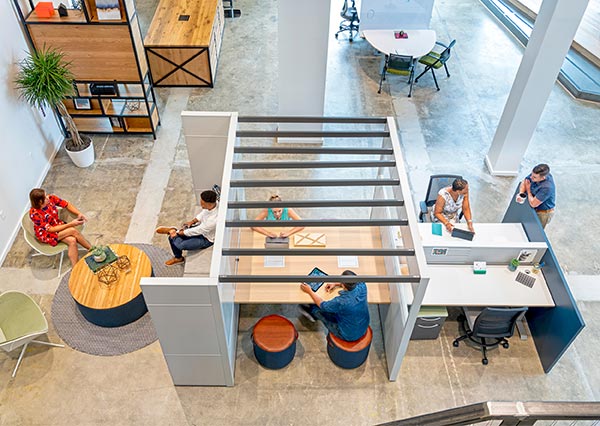 Comfortable multipurpose spaces can boost productivity
An office with highly adaptable spaces that serve multiple purposes can support collaboration and improve productivity. Consider providing spaces that enable:
Focused work
A break from desks
Easy reconfiguration
Rest, rejuvenation, and recharging
Options for where to work based on the day's tasks
Socialization and informal gathering
You can aim for furniture throughout your office that enables employees to be productive while also being comfortable. They're more likely to stay engaged and concentrate better if you incorporate furniture that can promote relaxation, revitalization, and casual interaction.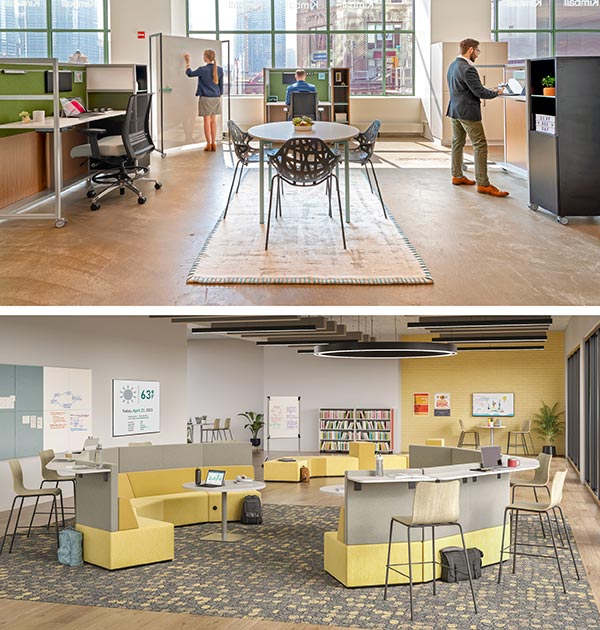 Design for collaborative activities
To think about how you might design a space, consider how employees use it. For example, in an area where teams aim for fresh thinking and big ideas, you could try:
Mobile whiteboards
Soft modular seating
Lightweight tables
Lighting that simulates daylight
These elements can jump-start creativity and lead to new-perspective solutions without forcing you to commit to one particular setup. You can move furniture from room to room or even create a new room with mobile privacy screens.
Flexible furniture isn't just for small get-togethers. It can also support multiple activities in one space. For example, you can transform an open space from a dining space to an auditorium with stackable chairs, tables on casters, and space-saving stowable furniture.
Rely on Workspace Interiors
Workspace Interiors brings you a knowledgeable team with access to innovative furniture and ideas. We're more than a furniture vendor. Workspace Interiors provides total turnkey solutions that suit your unique requirements, and we can manage any or all parts of the process.
Find out how we can help you support collaboration throughout your organization. Contact Workspace Interiors today.
---
All content provided herein is for educational purposes only. It is provided "as is" and neither the author nor publisher warrant the accuracy of the information provided, nor do they assume any responsibility for errors, omissions or contrary interpretation of the subject matter herein.
ODP and ODP Business Solutions are trademarks of ODP Business Solutions, LLC. © 2023 ODP Business Solutions®. All rights reserved.