Molly Martis, Stephanie Simpson and Joy Gocal
Photo credit: Wieland
More and more hospitals are creating flexible environments to maximize functionality while minimizing their footprint. This change has largely been driven by the move towards more private rooms, which results from the need to improve the patient experience as well as concerns about infection control.
Smaller patient rooms in hospitals: Less is more
Well-designed furniture is key to making functioning patient rooms with a smaller footprint a reality. Facility managers today specify multifunctional furniture that is easy to use.
Thanks to evidence-based design, which takes into account the positive impact that the presence of a patient's family can have on recovery, hospital patient rooms are now typically designed to accommodate the patient's family. During the day, much of the square footage might include counter space for dining, kids doing homework or a spouse using a laptop. That same space must convert into a family member's bed at night.
Patient satisfaction is another important driver impacting hospital room design. So, patient rooms are also designed to incorporate the comforts of home to help put patients and their families at ease. Elements such as artwork, natural light, and noise reduction add a residential — as opposed to clinical — feel to even compact patient rooms. The patient experience is also personalized through the use of patient communication boards, which incorporate shift-by-shift names of nurses and physicians and even digital elements like family photos.
Outpatient procedures have become more commonplace. Shared waiting rooms and reception desks serving multiple departments have changed the makeup of public spaces. These shared spaces are typically open common areas, but privacy is still key for registration and consultation with medical staff to ensure patient confidentiality and address HIPAA requirements.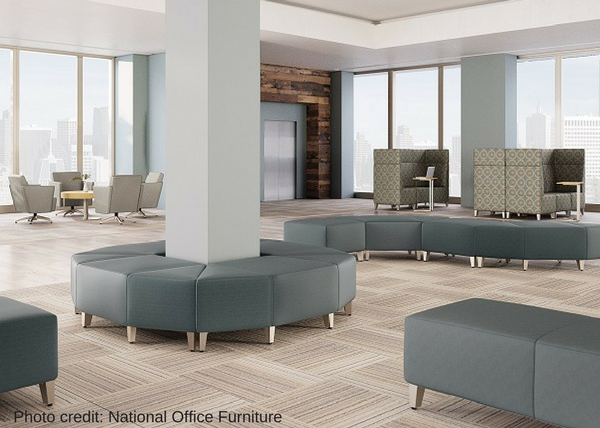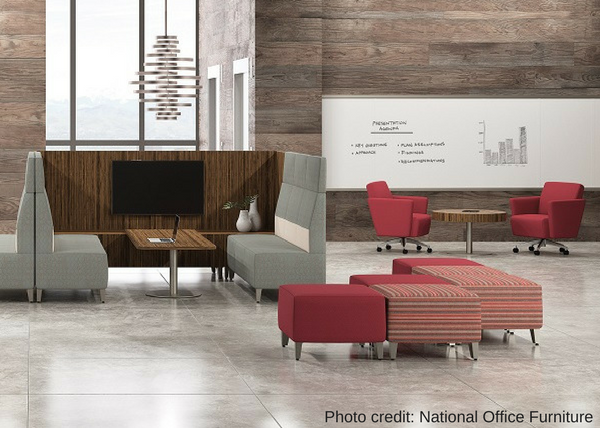 Multifunctional common spaces
Common spaces in healthcare serve a variety of purposes these days, including patients waiting to check in and undergo procedures or families receiving an update from a nurse or physician or waiting before a patient is moved to a room. Residential influences such as cafes — both indoors and outdoors — are nods to the importance of visitor comfort.
Technology can play a key role in helping to achieve a family-friendly flexible environment for patients and their families. Furniture designs that accommodate smart phones, tablets and other related technology tools enable the product to take on a variety of functions depending on the user. Kids stay entertained on gaming devices, tablets and phones, while adults digitally update family and friends or even work. Patient-centered healthcare extends beyond the clinical care to design elements of the environment. Thoughtful design that incorporates flexible furnishings helps facilities keep up with the evolving world of healthcare.
What does all of this mean for your Healthcare organization? When the time comes to plan a new facility or refresh existing spaces and you need some guidance, just reach out — we're here to help.