Author: Marina Fletcher
A Competitive Edge: Gaming Chairs and Furniture Solutions for Esports
According to the National Association of Collegiate Esports, more than 170 colleges in the U.S. sponsor esports programs and actively recruit players with a pool of $16 million per year in scholarships and aid.* Teams face off against each other in organized, online video game competitions, generally playing titles that are popular with at-home gamers. Spectators can follow along online.
Esports can help promote strategic thinking, STEM (science, technology, engineering and mathematics) learning, collaboration and communication. All that players need are the desire, skill and tools to unleash their competitive nature.
Just like games played on a court or a field, the right equipment can make a difference in players' performances. Higher education institutions might consider how to gain a competitive edge with gaming chairs and other furniture solutions to support their e-gaming teams.
More Than Machinery
At the heart of the e-gaming landscape are powerful computers with fast processors, powerful RAM, dedicated graphics, solid-state drives (SSDs), high-definition monitors and fast, reliable internet connections. In addition to computing power, there is also a physical aspect of gaming that shouldn't be overlooked.
Between practice sessions and tournaments, players spend hours in front of their gaming systems. That's where chairs designed for e-gaming can make a difference. Players' bodies come in many shapes and sizes. Gaming chairs are built to provide both comfort and support for extended playing time. They typically incorporate ergonomic features, which support users' natural posture and reduce stress points on the body, as well as the ability to adjust the chairs to individual preferences.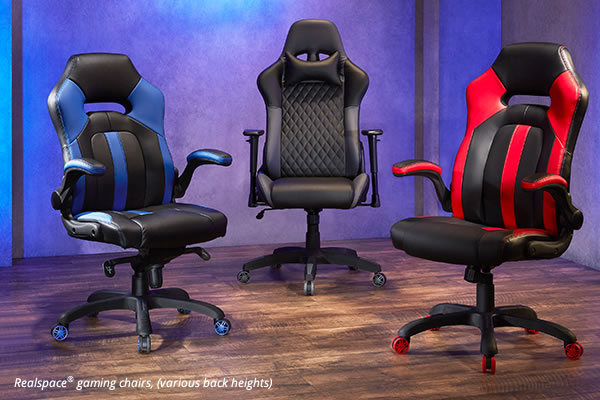 Outfitting the Team
When selecting gaming chairs for an esports team, there are a few features to consider that help provide support during extended playing sessions.
High backs with neck support
Adjustable tilt tension, seat height and armrests
Lumbar support
Waterfall seat cushions
Appropriate seat width and weight capacity
The height adjustment feature can be used to meet the size of the gaming desk or table. The ability to modify the tilt tension and angle helps to achieve game-ready positioning before the action starts. Comfortable seats can help players remain relaxed and ready to face the competition. Many chairs can also be customized with a school's colors and logo.
Don't Forget the Desks
Gaming experiences can also be enhanced with ergonomic gaming desks that are height adjustable to adapt to different players' desires.
Look for desktops with plenty of space to hold consoles, multiple monitors and other gaming necessities. Many gaming desks also include built-in electrical components, accessories to organize cables and hooks to store headphones when not in use.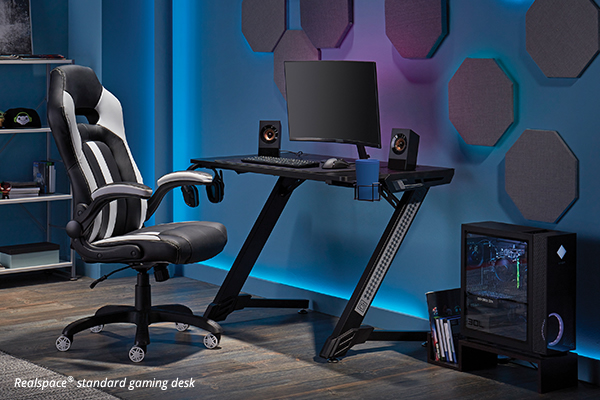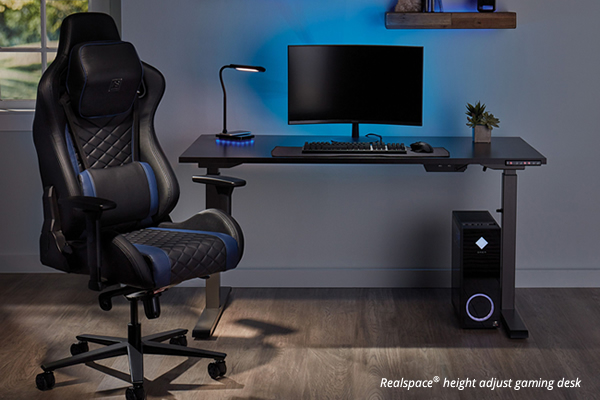 Taking the Next Step
Looking to create a dedicated esports environment on campus? We can help. ODP Business Solutions™ Workspace Interiors can provide space planning, creative services, project management, design and assistance with furniture selection.
The contents of this blog are for informational purposes only and are based on scientific and technical research noted below. The information does not constitute a medical consultation and cannot replace medical advice. Any information should never be used as a substitute for the advice provided by your physician or other health care provider.
*Source: https://nacesports.org/about/