Posted in Interior Design, Space Planning
Front and Center to Student-Centered: DeFront Your Classroom
You may have noticed a shift in classroom setups and teaching styles in recent years. More importantly, you may have noticed more engaged, inquisitive, confident students who embrace trial and error. Coincidence? Not by a long shot. By design, innovative teaching practices have evolved the classroom of yesteryear into a collaborative learning lab. This new approach is anchored in the theory that student-centered learning engages minds and encourages students to learn by exploring and participating — not just by listening to lectures.
How did this all start? With the realization that there is more psychology than meets the eye in classroom management. Configuring the classroom so there is no front per se — just multiple setups and focal points — has a number of perks. Students stay engaged, interact more and shift to a dynamic where the teacher is also a learner. Teachers in classrooms across the country are already incorporating the "defront classroom" in various ways.
Despite all the positive buzz about the defront classroom, many teachers are still left with questions about how best to capture students' attention with actionable logistics that will work in their own classrooms. Let's take a closer look at the goals behind learner-centered environments, as well as techniques to be successful with this approach.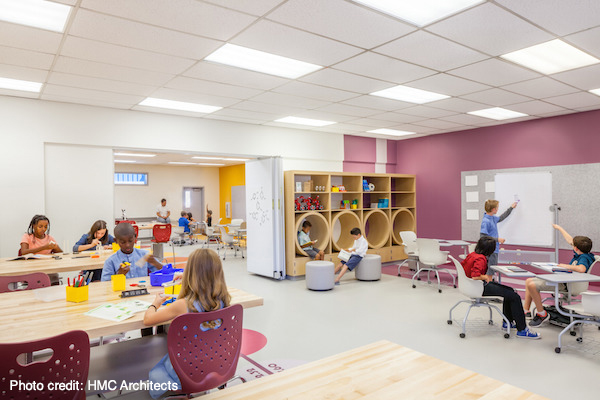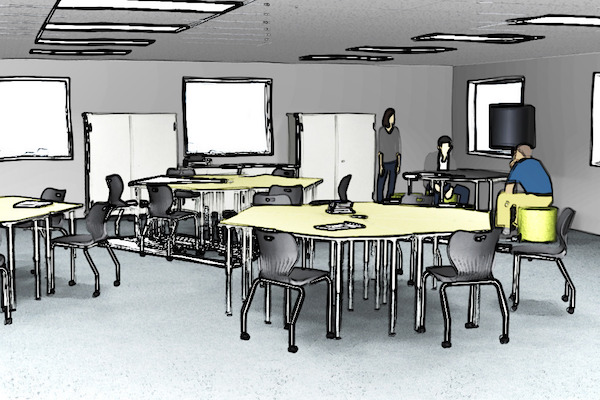 Defront classrooms 101:
In classrooms of the past, good students sat in the front while distracted kids sat in the back.
Defront classrooms change a ranking mentality to the mindset that everyone is equal, including the teacher.
Why would a teacher want to change? One reason is to change and influence behaviors of students. Another is to adapt to new curricula that incorporate STEM/STEAM —programs that don't just teach facts, but instead get kids to understand the "why." In many new curricula, students collaborate, even in math and English.
The most important factor is to remove the physical front of the classroom. This means moving the teacher's desk from the front — or removing it altogether. For many teachers in defront classrooms, a filing cabinet or a mobile podium and a laptop work well as substitutes for a desk.
The next key factor is to change the whiteboard. Ideally, a whiteboard is mobile (on casters), but if it's not mobile, it's put to the side. You can also put 3M Post-it® dry erase surface on some of the desks and on the sides of cabinets or bookshelves, creating different areas of focus. They can be cut to any shape and put on all sorts of non-traditional locations around the classroom.
More and more teachers have shifted their classrooms to make them (using teacher lingo) "the guide on the side" instead of "the sage on the stage."
Tips for capturing and keeping students' attention:
Engage students in the movement of the room. Especially with lower elementary students. Moving the furniture around can be a fun activity unto itself.
Engage students with a question, open participation, writing activity or recall activity to get them focused. Students will typically talk when they are in groups, so grab their attention to keep them focused instead of talking with friends.
Many educators will consider classroom configuration at the beginning of school based on the curriculum. Whether the curriculum focuses on direct instruction, collaboration or independent work impacts the best setup.
Assign a number. Tell students to move to a certain configuration number that correlates to the curriculum. This approach works and returns additional teaching time. Plus, it can be fun for students, much like running a certain play in sports.
Allow work groups to be the focus. Groups of five have become accepted as the "sweet spot" of group size for optimal participation and collaboration. In groups of two, students tend to feel pitted against one another. When groups of three are used, one student often feels the need to side with one or the other of the remaining two students. Groups of four can become evenly split on two sides of an issue. A group of five seems to be the magic number to allow everyone to be heard and to foster the type of collaboration that nurtures creativity coupled with testing new ideas.
Experiment with different student-centered configurations such as u-shaped, clusters or square depending on the curriculum being utilized.

Teacher movement is key in all scenarios. The teacher can move around the classroom to different groups during group work, but away from the front to multiple focal points in the classroom.
Consider innovative classroom focal points

Tech station
Maker station
Tackboard
TV monitor
Bring your own device (BYOD): Students follow along on tablets
The insight above provides a good foundation for defront classroom success. Be sure to share your story with us! We'd love to hear how it goes — or if you need help, reach out. We're here to help you design your dream classroom.