Evidence-Based: The Healing Impact of Art in Healthcare
Photo credit: Great American Art
Molly Martis, Stephanie Simpson, Joy Gocal and Amanda Bahn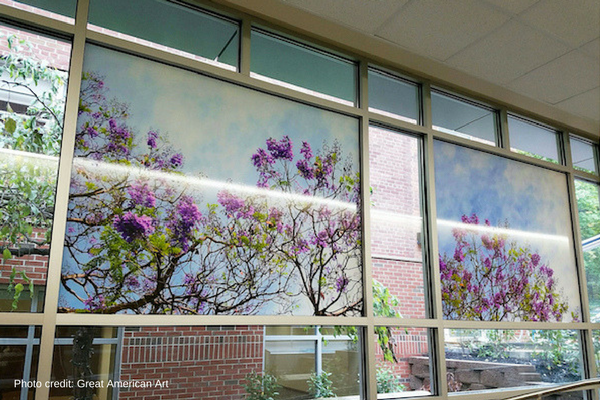 If you've been to a healthcare facility recently, you may have noticed a pleasant change from years past — a softer, warmer, more homelike setting. No, you weren't dreaming. Thanks to a number of studies over the last decade that point to the positive impact of art, many healthcare facilities have begun to emphasize art in clinical facilities of all types — inpatient, outpatient, pediatric, senior living and behavioral health. Interestingly, positive impacts are not limited to patients; they also extend to families and staff.
Artwork can provide a welcome distraction and an opportunity for patients to look outward instead of inward. Increasing residential influences in design helps make healthcare settings feel warm and inviting. In addition, art can be used strategically to provide perspective to sweeping spaces with high ceilings, making them feel less overwhelming.
The methodology of incorporating research-based best practices into environmental design in healthcare furnishings has become known as evidence-based design — and is gaining steam. Artwork generally focuses on natural elements such as scenic and inspiring outdoor landscapes — with the exception of artwork in pediatric settings that tends to be cheery and focus on primary colors while de-emphasizing medical equipment.
In fact, there are interesting distinctions between the types of art that are typically used in different healthcare settings. For example, in behavioral health settings art is installed differently so that it is tamper-proof and not physically hazardous. However, senior living art should emphasize familiarity and use calming colors and themes.
The mindful use of artwork isn't just a touchy-feely amenity. It has a tangible and measurable impact on recovery. When art programs are in place, patient stays can be shortened, and the use of pain meds may be decreased. As noted by our partners Great American Art in their whitepaper The Value of Art in Healthcare, "78% of healthcare facilities [that] implement arts programming cited measurable benefits to patients — which included increased perception of quality of care, shorter hospital stays and decreased perception of pain and discomfort, which also led to a reduction in demand for pain medication." 1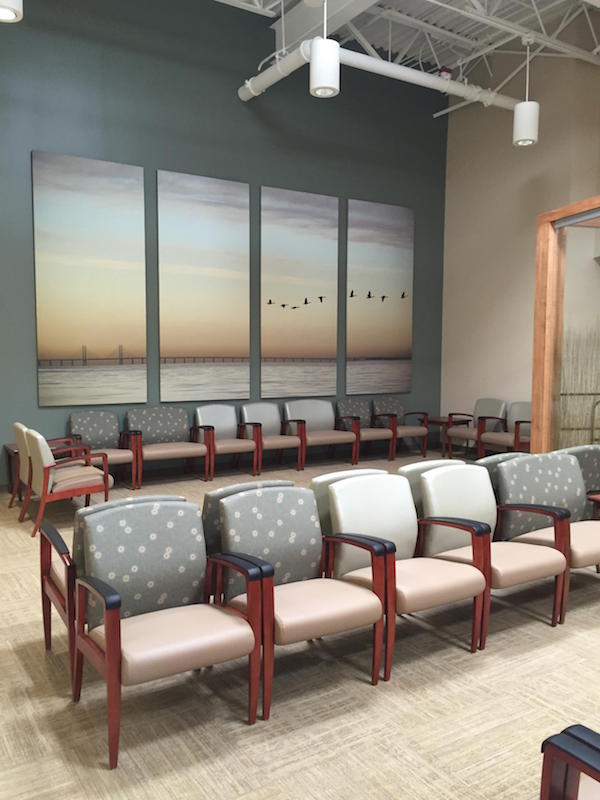 Multimedia art, which includes paintings, photography, sculpture and lighting, impacts the feel of clinical spaces to make them seem less sterile and more like home — putting patients, families and staff equally at ease. Graphical elements can also distinguish themed or color-coded wayfinding signage and be used to reinforce organizational branding.
Art can also serve dual purposes. Acoustic panels that mask sound can be custom printed with art so that they're not only relaxing and beautiful to look at but also contribute to lower noise levels — and therefore to higher patient satisfaction. Art can also be integrated into architectural elements such as space dividers. Regarding windows, unattractive views can be replaced with soothing scenes of nature that also allow light into the room, which is also thought to have a positive impact on healing.
Another common dual use of artwork is designing a wall to recognize donors in an artful way. Because donor recognition is often handled by a nonprofit auxiliary or foundation, these installations may fall under a separate budget that has fewer constraints.
In healthcare design, décor is frequently kept neutral. Artwork provides an opportunity to make spaces pop with color and dimension, plus offers the bonus of being easily changeable as periodic refreshes are needed. The research that opened the door to the evidence-based design movement has been out there for close to a decade. Now healthcare organizations are increasingly able to proactively focus budget to artful aesthetics because of the connection to patient satisfaction and reimbursement.
What does all of this mean for healthcare organizations? When the time comes to refresh spaces, strategic use of artwork has become a must-do. The question is exactly how will you incorporate artwork into your space design? If you need help designing concepts that are right for your organization, just reach out — we're here to help.
SOURCE:
1"2009 State of the Field Report: Arts in Healthcare," http://www.thesah.org/doc/reports/ArtsInHealthcare.pdf