Authors: Noelle Monek & Elizabeth Bower
Draw the Outside World in With Indoor Landscaping
Connecting with nature is an ideal stress-buster. It's one that people have embraced more than ever the last few years, especially if they've worked from home. Taking a short walk or some deep breaths outside can help improve productivity, a sense of wellness and optimism during the workday.
In contrast, the average office building has little natural light, overhead fluorescent fixtures and a gray or beige interior. With many people reluctant to return to the office, property managers may want to overhaul their buildings to make them more inviting.
Indoor landscaping can help them do so by bringing the outside world in — and it's much more than adding some plants. Also called "interior scaping" or "plantscaping," indoor landscaping can redefine the vibe of an office or entire organization. Companies may use it to help shift a culture from harsh and corporate to warmer and more relaxed.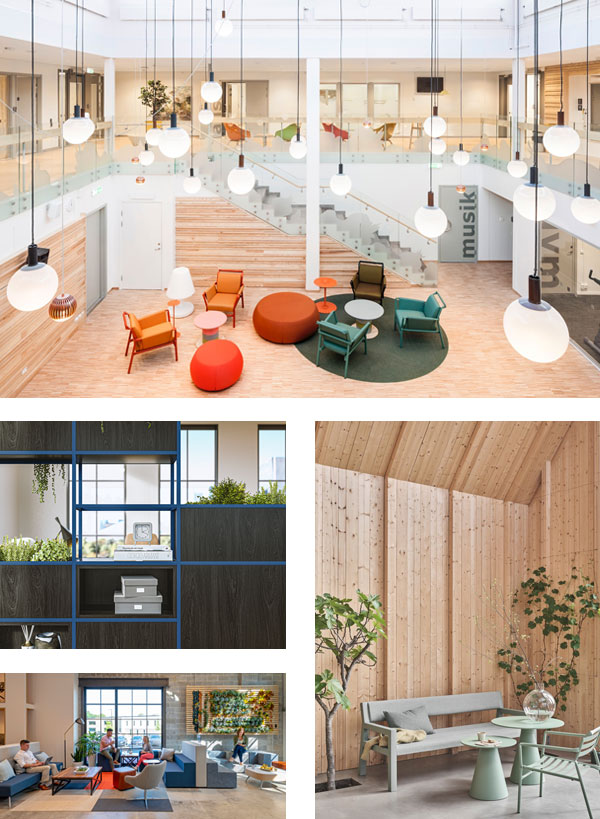 See your space holistically
Interior designers can help you figure out where to bring in nature. They consider space, horizons and angles, along with floor coverings, traffic patterns and infrastructure. Design recommendations can include these examples and more:
Textures: Incorporate organic textures and shapes, plus natural materials like wicker and rattan. Boulders and rocks have surfaces that help define different areas. Add life to a gathering space with a living wall that people can touch.
Lighting: Mix shapes, horizons and angles, such as globe lighting, asymmetrical lamps or pendants that simulate looking at the stars. Lighting is a chance to be creative, even with a cubicle or conference room.
Ways to mimic nature: Bring nature indoors with areas of sand, gravel and plants, like a garden. Instead of gray carpet or concrete in a reception area, a designer might stain the concrete in a subtle, two-toned, asymmetrical pattern like a riverbed.
Colors: Incorporate colors that you see in nature into the space, fixtures and artwork. And not everything needs to match — you can mix iron and brass or different shades of wood for example.
Furniture is one of the best ways to bring nature indoors, especially because manufacturers are incorporating indoor landscaping into their pieces.
Live-edge tables or tables and stools that have been repurposed from trees can be functional and natural. Shape-dividing shelves have spaces to insert plants in cabinets or niches. Modular seating arrangements with planter boxes attached to the seats are perfect for meeting areas.
Plant life connects the office with nature
Bringing nature inside can help reduce stress and lead to happier employees — and anyone can do it. Plants are an easy way to help reduce carbon dioxide and remove toxins from the air, which increases oxygen and can help people think more clearly and feel better.
Interior designers, who are experienced in space planning, see your office from a fresh perspective. Anyone can add a potted plant, but a designer will know where such indoor landscaping items will work. They can help you get the right plant sizes, varieties and colors. A good solution could be renting from a plant-maintenance company, whose services include taking care of plants, even on a living wall.
When floor-to-ceiling columns are present, you can make the best of them by wrapping them in plants. Even vinyl wall coverings can offer natural wall textures that feel like grass. Varied wood tones in common spaces or natural oak finish on floors can feel less manmade and more like nature.
If you aren't building out a new office, you can still make your workplace more soothing and comfortable. Try hanging plants from the ceiling. A tall plant on the floor or a colorful desk plant in wicker can bring the outdoors in and make the office feel more inviting.
We'll help you bring nature indoors
The ODP Business Solutions® Workspace Interiors team makes indoor landscaping attainable.
We have experience with providing options within your budget. Whether you're building out an office space or inviting in nature to reflect a changing organizational culture, we look at your space holistically and create a custom solution that suits your needs.
Our trained designers work with manufacturers that are on the cutting edge of natural design. With access to the latest innovations in furniture, flooring, lighting and more, we can incorporate indoor landscaping into any space.
Contact Workspace Interiors today.
---
All content provided herein is for educational purposes only. It is provided "as is" and neither the author nor publisher warrant the accuracy of the information provided, nor do they assume any responsibility for errors, omissions or contrary interpretation of the subject matter herein.
ODP and ODP Business Solutions are trademarks of ODP Business Solutions, LLC. © 2023 ODP Business Solutions®. All rights reserved.