Corporate Office Design Color Trends for 2020 and Beyond
Photo courtesy of Jasper Sanidad
Author: Marina Fletcher
Is gray's moment over? The relaxing color has been a popular choice as the base hue for commercial and home designs for a number of years. As we move forward into a new decade, expect evolving corporate office design trends to embrace new colors.
Selecting the right color scheme for a new or refreshed office design is critical to creating spaces that are aesthetically pleasing and employee friendly. The 2019 Work Environment Survey from Capital One finds that 90% of office professionals say that they perform their jobs better in workspaces that are well designed.
Color choices also need to support a business's brand. How office design colors are combined can also set the tone for a company's culture, be it calm, cheerful, edgy, stately or innovative.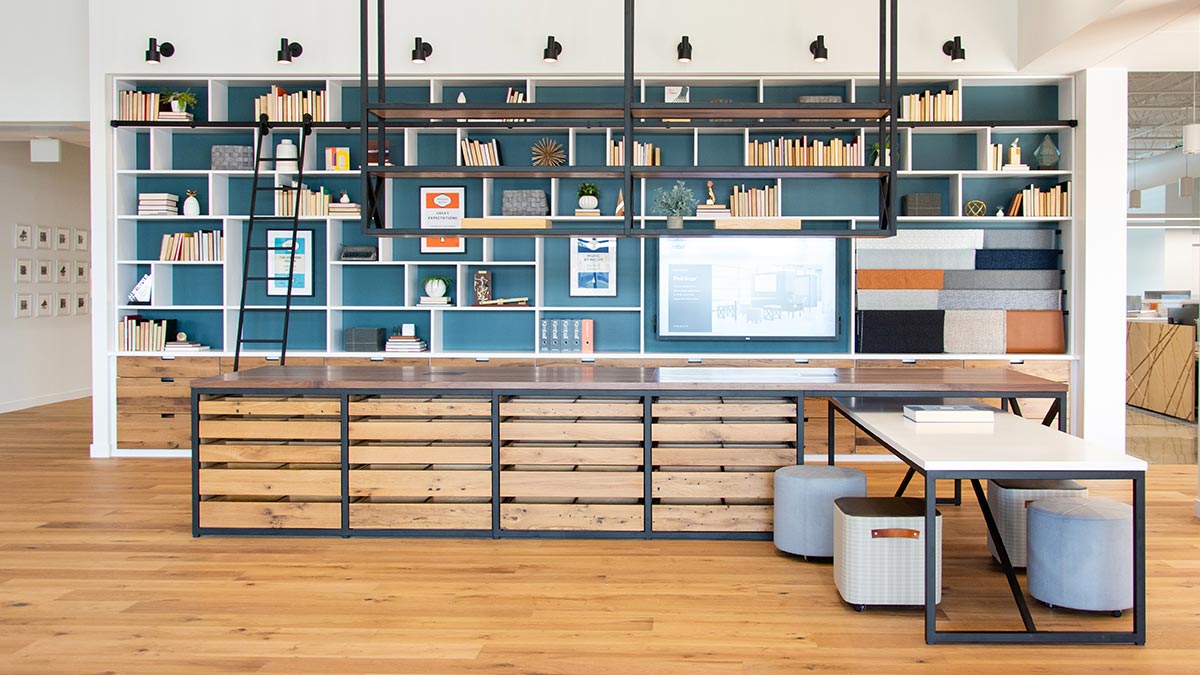 Photo courtesy of Kimball
Factors That Drive Color Trends
Several factors contribute to emerging color trends. Societal movements, workplace culture shifts, wellness initiatives, input from other design-oriented industries (such as fashion) and geographical location top the list of influences.
Furniture, paint and accessories vendors pull cues from this list to inform choices for their products. The result is a wide range of on-trend items that designers can consider when creating or renovating workspaces that encourage productivity, creativity and communication.
Trending in 2020
Color trends appearing in 2020 are grounded in natural elements such as the sky, earth, water and plant life. Expect to see both bold colors and muted shades utilized to create different emotions, depending on how they are deployed in a space.
Shades of blue, muted pinks and greens, rusts, orange and champagne hues lead the pack. Jewel tones are also making a comeback.
Walls in particular are having a moment with dark tones of navy, forest green and black surfacing.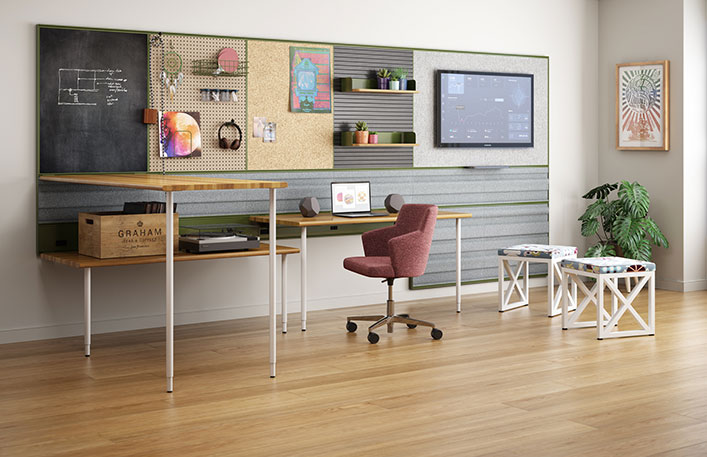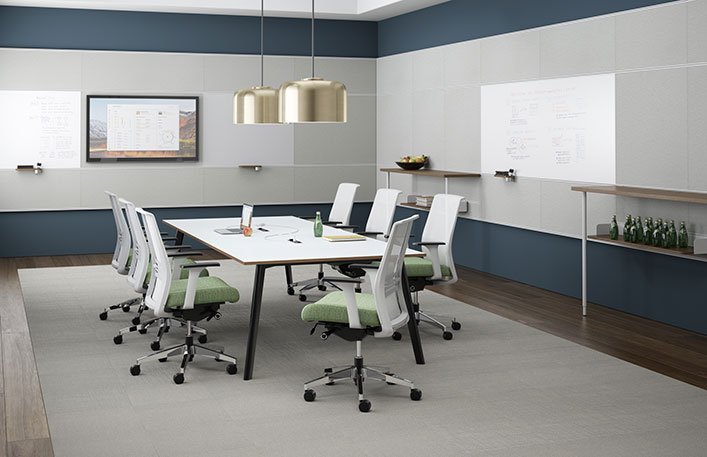 Photos courtesy of Kimball
Color Is Everywhere
On-trend colors also appear in a variety of other places and materials.
Vertical planes are a new way to add color to a space. For example, the Kimball® Work|Able™ wall system enables designers to incorporate natural materials such as cork, pegboard and chalkboard, as well as colorful fabric tiles.

Flooring can add a base or pop of color to help define a space.

Architectural features such as stairway rails and lighting are unexpected elements that can provide added color.

Natural elements like plants and water features add both texture and color while bringing living items into a space.

Artwork infuses color onto blank walls and can help set the mood that the office space evokes in employees and visitors.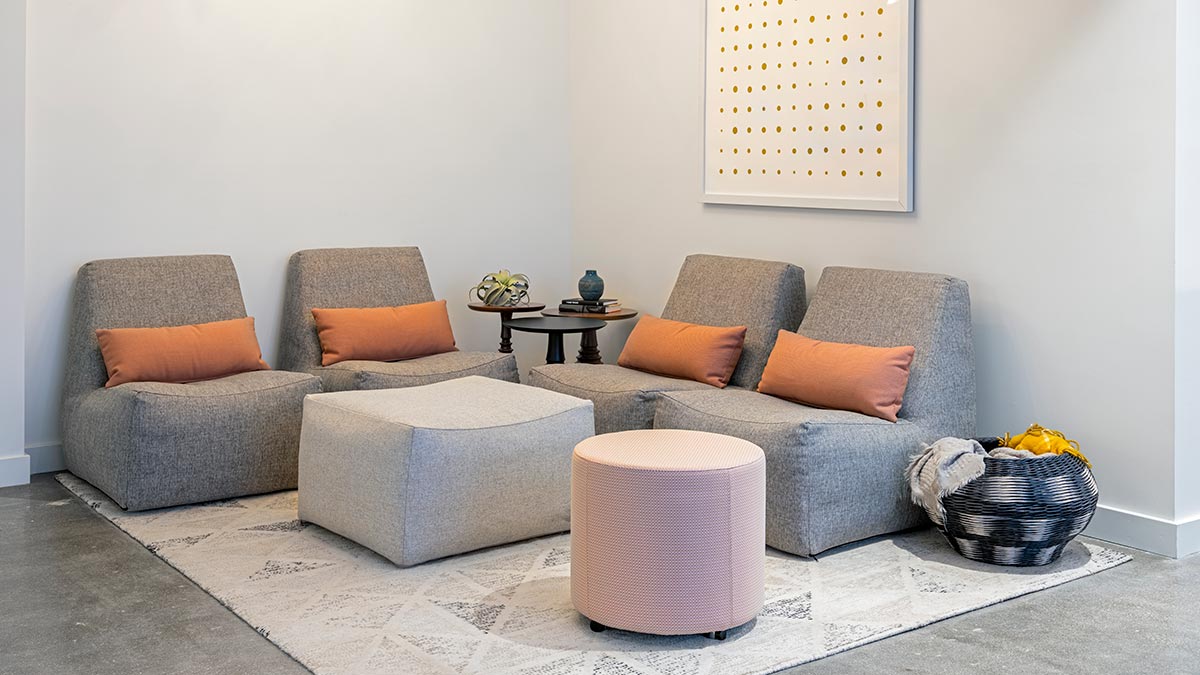 Photo courtesy of Jasper Sanidad
Working With White
White walls continue to be a popular choice because they create a blank canvas for designers. But without proper lighting and other interior selections, they can make a space look and feel unfinished. One solution is to take advantage of casework that is black or dark blue. Dark storage units with woodgrain work surfaces and little or no upper storage units help ground white walls while still evoking a light, airy feel.
Moving Forward
Interested in learning more about how to incorporate today's color trends into corporate office design? We can help.
---
All content provided herein is for educational purposes only. It is provided "as is" and neither the author nor publisher warrant the accuracy of the information provided, nor do they assume any responsibility for errors, omissions or contrary interpretation of the subject matter herein.
ODP and ODP Business Solutions are trademarks of ODP Business Solutions, LLC. © 2023 ODP Business Solutions®. All rights reserved.