Photo credits: Top image, NATIONAL; additional images, HON.
David McGinnis and Todd Stortz
Have you heard that you can gain a competitive advantage by managing materials smarter? This has actually shifted from being an ace in the hole to a key survival skill for today's organizations, including those in the public sector. With continual budget cuts that affect the head count for departments and entities, reducing expenses can mean saving a job for someone who otherwise may have been on the chopping block. In cases where fewer people are doing more work, streamlining processes can make a big impact in the efficiency department as well.
What does this mean for public sector office furniture projects? Organizations can impact their bottom line with an often overlooked secret that creates real savings on day-to-day office products as well as on office furniture. By using cooperative contracts for furniture projects, organizations can consolidate their own buying power. This can provide additional leverage for deeper discounts on all furniture spend — as well as added cost savings on office products throughout the year.
Aside from bottom-line savings, the contract buying approach also streamlines many aspects of managing materials. Cooperative furniture contracts eliminate the need for bidding. These contracts have been competitively solicited, evaluated, awarded and administered by a public agency recognized for procurement excellence. Having multiple office furniture manufacturers prevetted under one contract with numerous solutions available provides a tremendous benefit to buyers. By bundling program purchasing, organizations get more value for the public sector dollar.
Where does this added value come from? Straightforward savings, higher back-end programs or both. By moving total purchases to a different level, this can translate to an additional 10–15 percent savings, plus extra program dollars at the end of the year. Value can also come from more agile operations: without competitive bids, you can save 60–90 days — plus the labor hours for the bid process.
In the public sector world, many states have traditionally used furniture contracts, usually with hundreds of different manufacturers, but many of these states are shifting to cooperative agreements. Compared to a manufacturer direct contract, group purchasing agreements can avoid the tediousness of having to generate individual purchase orders (POs) and accounts payable (AP) processes for each manufacturer.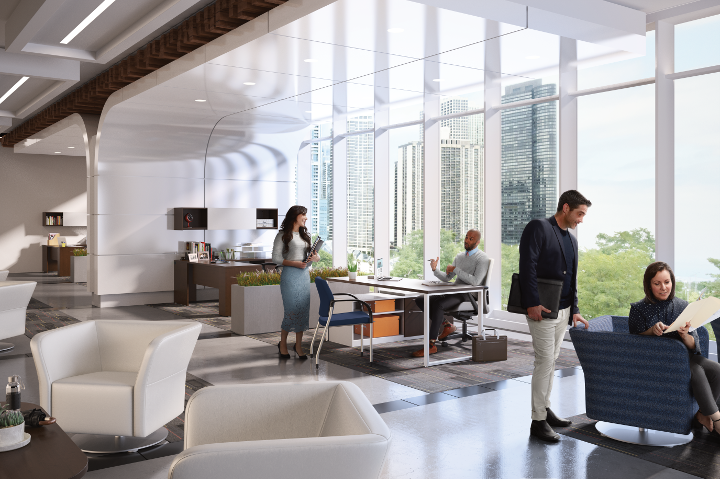 When you consider that a single office furniture project may easily utilize 15–20 different manufacturers, the impact of streamlining POs and the AP process — not to mention the bidding process — becomes clear. Countless labor hours go into the competitive bidding process. Effort is needed even before the bid is released, and by the time the team considers options, analyzes data, publishes required awards and wraps up the project, the number of hours used can be remarkable.
The growing prevalence of buying groups makes it clear that this approach resonates with public sector entities as well as with businesses large and small. Our team has noted buying groups specializing in everything from K–12 to local and statewide coalitions to industry verticals such as higher education and healthcare.
If you have an office furniture project coming up, now may be the time to consider making the most of any buying groups that you can utilize. Need help navigating the options? We're here to help!