Make an appointment with innovation
Author: Marina Fletcher
The healthcare industry is constantly evolving, and waiting room design is no exception. That's why periodically refreshing it with new furniture, fabrics, technology, and signage can help you make a positive first impression on visitors and increase overall patient satisfaction.
In addition to aesthetics, updating your waiting room can help improve comfort, integrate technology, create a more personalized experience, optimize your layout for functionality, incorporate art and nature, and promote wellness.
ODP Business Solutions® Workspace Interiors can help. Look to us to help you renew your waiting room space so it feels fresh, inviting, and suited for the modern patient experience.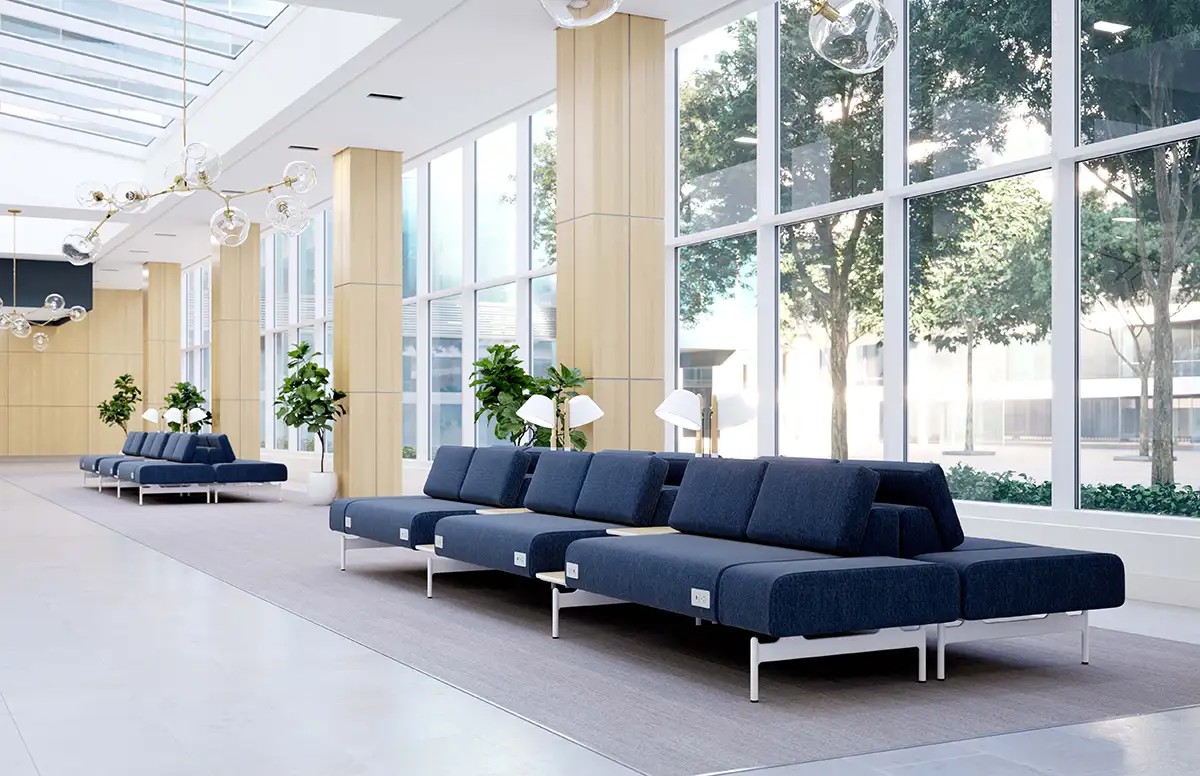 Comfort and relaxation
Waiting rooms are being designed to provide a comfortable and calming environment. This includes comfortable seating arrangements, soft lighting, soothing colors, and even features like noise-canceling headphones or aromatherapy. Here are some additional tips to consider when furnishing your waiting room for comfort:
Furniture accents and accessories that include elements such as wood, rattan, and bamboo can provide a warm, organic look
Blue and green hues on couches and chairs can have a calming effect
Felt, wool, and cotton provide more warmth than sleek leather
Technology integration
Other than furniture, what else can help make the waiting room experience more positive for patients and visitors? Technology. Digital advancements are being incorporated into waiting rooms across the nation to improve the patient experience. This includes tech-friendly furniture, interactive displays for educational content, charging stations for electronic devices, or even the use of telemedicine to provide virtual consultations while waiting, plus:
Integrated white noise systems to help enhance patient privacy
Motion-sensor lighting that can help you save energy in unused parts of the room
Contactless check-in kiosks to help provide more efficiency and hygienic sign-ins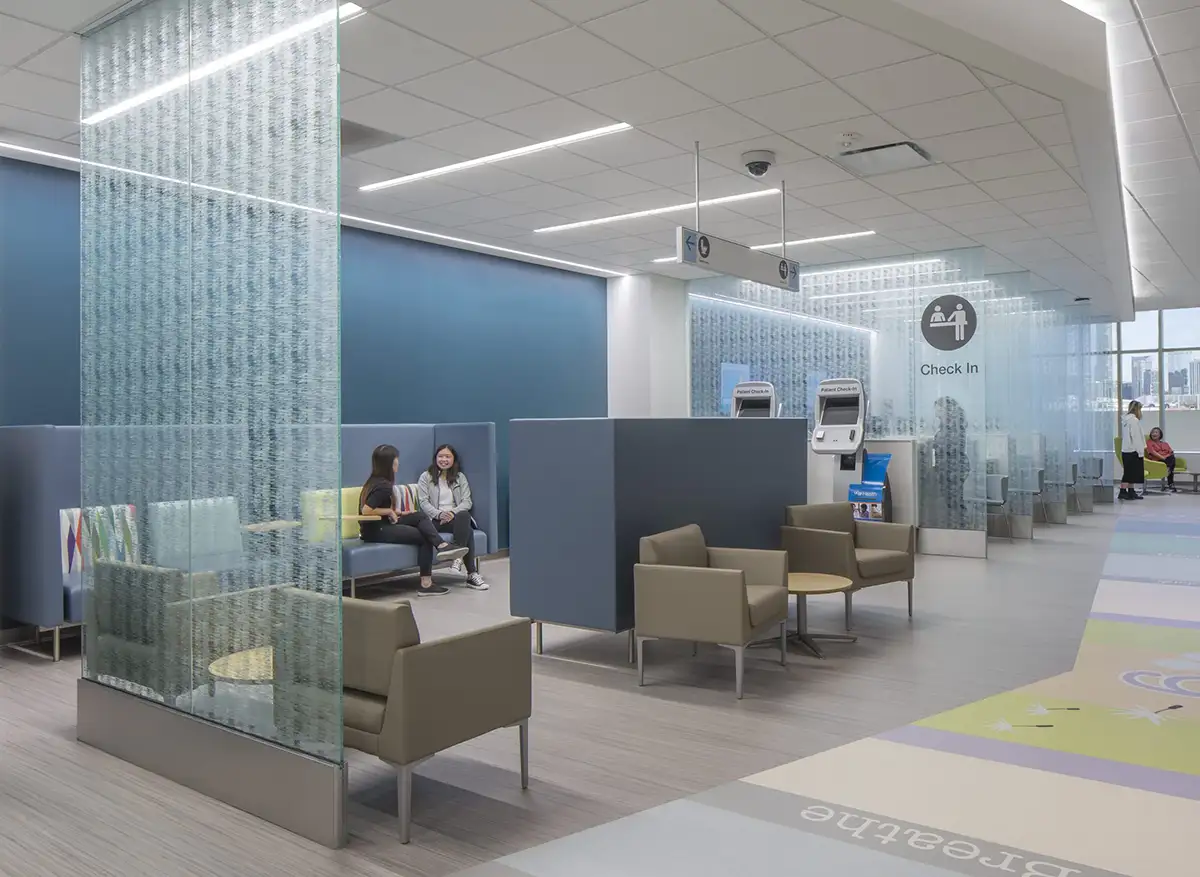 Personalized experience
No two patients are the same, which is why many healthcare facilities are beginning to focus on personalizing the waiting room experience. This can be achieved through self-check-in kiosks, personalized notifications and messaging, and tailored amenities or services based on patient preferences or needs. Additional personalization tools include:
Smart tablets that are personalized with content based on patient interests (including educational health videos and entertainment options)
Pediatric amenities like books, toys, and games suitable for different age groups
Charging stations at each chair to help patients stay connected without having to utilize shared electrical outlets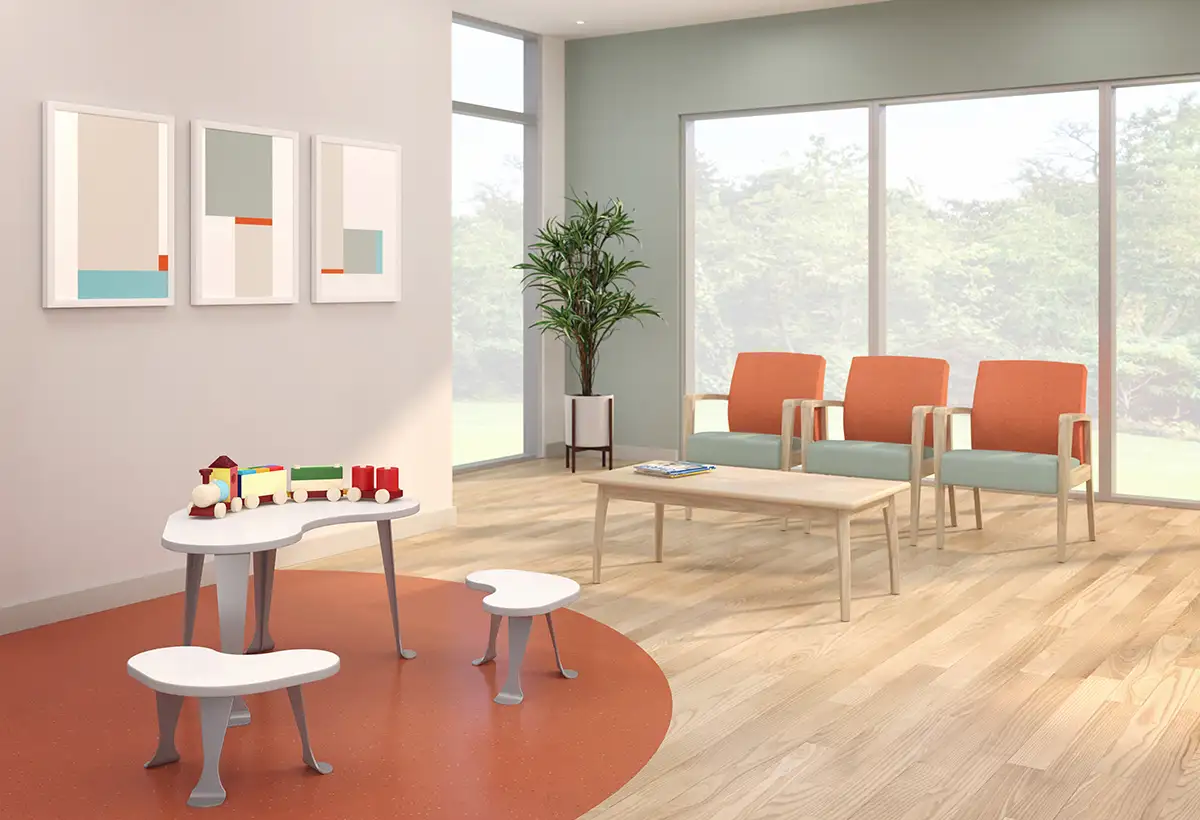 Functional layout
In addition to being optimized for comfort, waiting rooms can also be designed with efficiency in mind — bringing form and function together. This includes well-organized seating areas, designated spaces for specific activities such as children's play areas, quiet zones for relaxation, or workstations for patients who need to stay productive. Additional ideas include:
Strategic placement of wayfinding signs to help guide the flow of patients and visitors
A variety of seat sizes and armless chairs to accommodate elderly, pregnant, or disabled patients
Utilization of waiting room TVs as digital signage for timely announcements, policies, and more — without requiring physical space for signage placement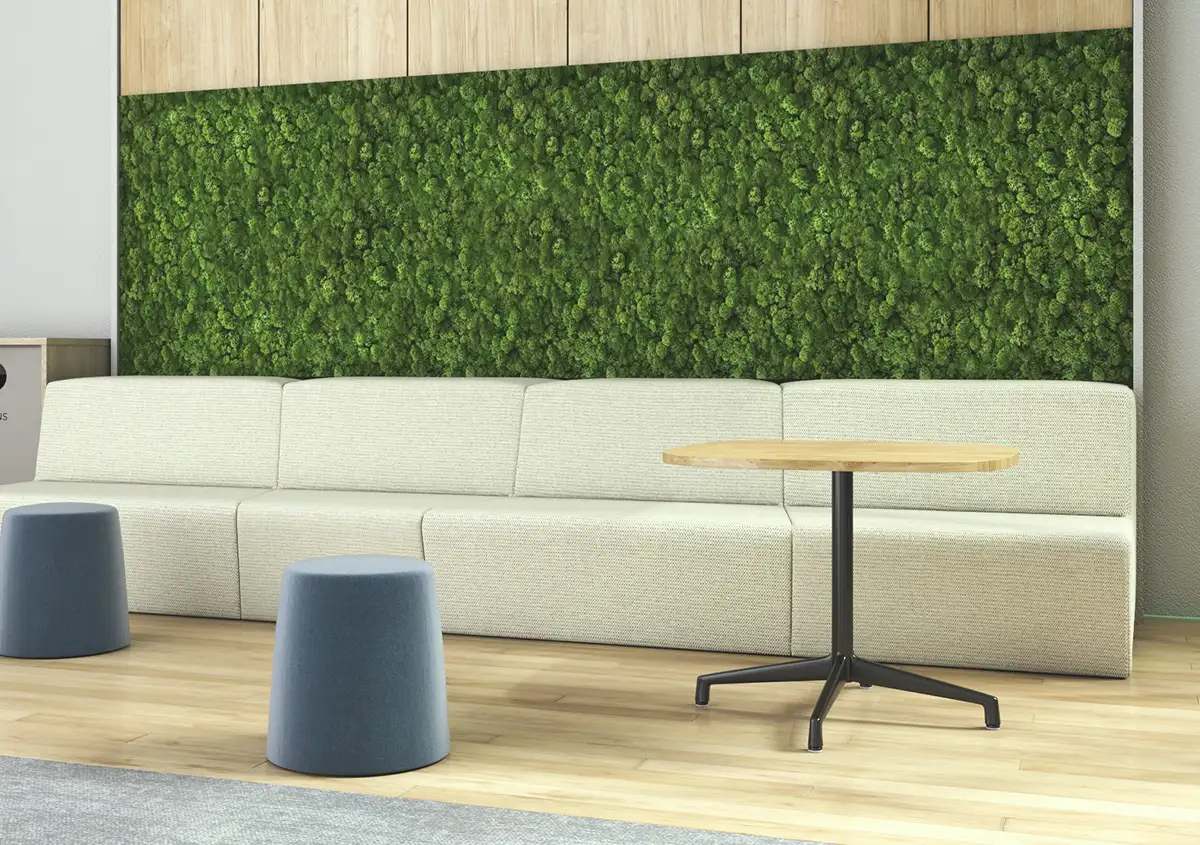 Art and nature
The days of cold and sterile-looking waiting rooms are over — and for good reason: Incorporating artwork or elements of nature into waiting rooms can foster a more calming and positive atmosphere for everyone utilizing it. Decorative art, living green walls, and indoor plants are becoming popular choices to enhance the overall ambiance, as well as these elements:
Prints and patterns with leaves, branches, or stone to invoke nature
Illustrated graphics as wall art that can be used to explain medical concepts
Custom murals or photographic walls to help add personality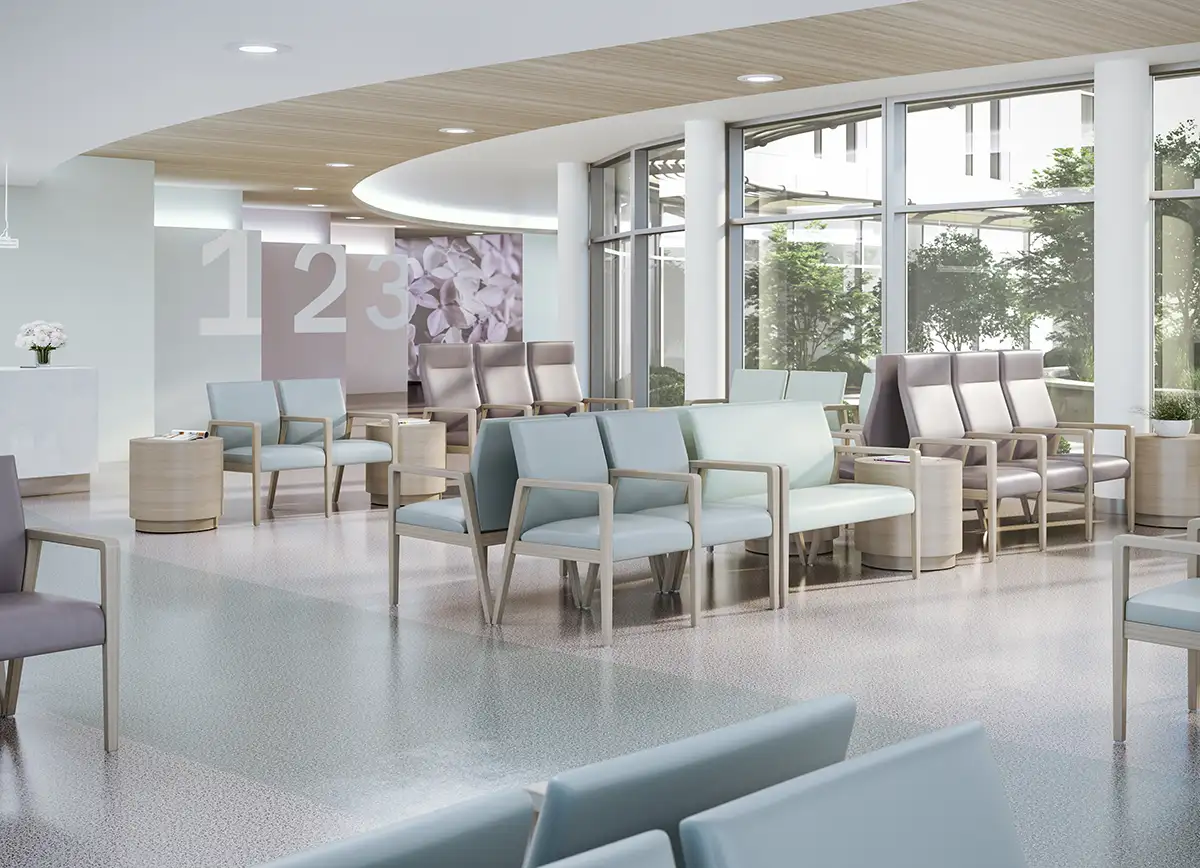 Wellness and health promotion
Waiting rooms do more than provide a place for patients to sit before their appointments. They can also be used as spaces to promote wellness and health education. This can be done through the display of educational materials, wellness resources, or even incorporating exercise equipment or areas for stretching or mindfulness activities, plus the following:
Health monitoring stations for patients to check blood pressure, pulse, weight, and BMI before appointments to encourage engagement in health data
Hand sanitizer stations, tissues, and waste bins to promote cleanliness and help reduce the spread of germs
Nutritional information such as recipes and tips for healthy eating to give patients takeaways for better wellbeing
The next time you walk through your waiting room, look at it with fresh eyes. Investing in an inviting waiting area helps patients feel valued and confident in the care they'll receive. Even little changes like new throw pillows and fresh paint can brighten your space.
Rely on Workspace Interiors
Workspace Interiors brings you a knowledgeable team with access to innovative furniture and ideas. We're more than a furniture vendor. Workspace Interiors provides total turnkey solutions that suit your unique requirements, and we can manage any or all parts of the process.
Find out how we can help you support collaboration throughout your organization. Contact Workspace Interiors today.
---
All content provided herein is for educational purposes only. It is provided "as is" and neither the author nor publisher warrant the accuracy of the information provided, nor do they assume any responsibility for errors, omissions or contrary interpretation of the subject matter herein.
ODP and ODP Business Solutions are trademarks of ODP Business Solutions, LLC. © 2023 ODP Business Solutions®. All rights reserved.